And I don't mean feeling down in the dumps. I'm talking about the color blue.
The color blue is a very popular choice among Northern VA homeowners when remodeling their home. Blue represents peace and tranquility. It can reduce stress, and provide a sense of calmness and relaxation. This makes it a very popular color for bedrooms, living rooms, bathrooms, and we've even seen it used in in-home gyms.
There are so many different variations of the color blue that you're sure to find something you'll love for the new space in your home.
Painting Your Basement
Blue is a popular choice for basements. It provides a sense of relaxation and if the space is being used to hang out and escape from the hustle and bustle that's upstairs, then blue may be a nice color to consider.
This basement remodel in Arlington, VA has blue walls. The colors of the furniture and décor go together nicely with the paint choice. They even used darker shades of blue in their basement furniture and rug. If you like this paint color you could try Basement Benjamin Moore #808 Sapphire Ice.
Using Blue for Bedroom Walls
The bedroom is a great place to relax, and it's where you end every busy day. It's no wonder that blue is a popular choice for bedrooms.
This bedroom in McLean, VA has a lovely blue hue on the walls, and the homeowners also incorporated the color through their quilt and bedside lamp. If you like this look you could choose a similar color like Benjamin Moore #781 St. Lucia Skies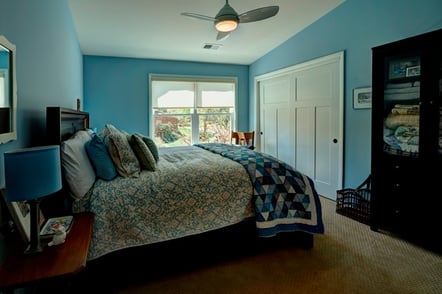 The same home in Mclean, VA went with a more vibrant blue for their in-home gym. The blue look is very refreshing and a nice motivational color to use in the gym. A lot of times we'll see in-home gyms that look more sterile, but adding a pop of color really can make a difference in the overall feel of the space. If you like this look you can try Benjamin Moore #2065-30 Brilliant Blue for a similar look.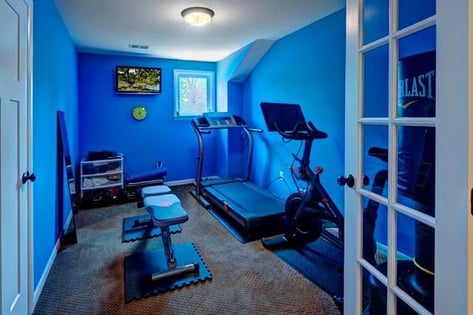 In-Home Office Blue Hues
As I mentioned earlier, the color blue evokes calmness and serenity. It's no wonder it's a great choice for an in-home office. If you like the blue paint color in the office addition in Arlington, Va, pictured below, you could go with something similar like Benjamin Moore #809 Soft Jazz.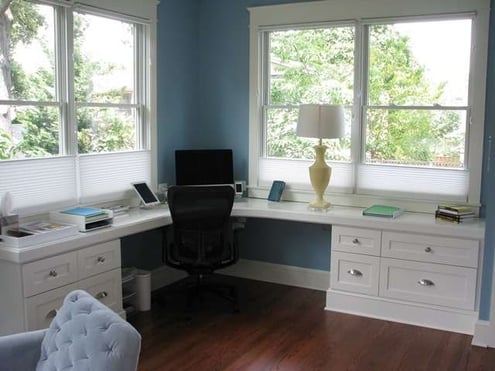 MOSS Tip: If you're feeling like going a little more bold in your paint choices, try blue. It's a little less intimidating than bright reds, or oranges and it can add a nice new touch to your space.
Northern Virginia Contractors
We know it's all about personal preferences, and whether you know the color palette you'd like to stick to in your home design, or if you need help figuring it out, we're happy to help. Send us an email if you have questions about paint colors or if you're ready to get started on your renovation. Sales@MossBuildingandDesign.com