...Is that really the question?


By --Pam Kopiak (PKopiak@MossBuildingandDesign.com)
This Old House. I'm not talking about the TV show, I'm talking about my home, specifically, the plaster in my older Arlington home. If you live in Arlington, VA, chances are you know just what I'm talking about.
Last month, I held one of Moss' HandyMOM 101 DIY workshops in my house. The hands-on workshop taught attendees how to repair a hole in their walls. Our handyman, Marty, did a great job of showing guests how easy it was to repair a hole in a sheet of drywall he had brought with him for the presentation.
Several of the attendees had the same question: What about plaster?
A lot of Arlington homes are of the older variety (mine was built in 1930!) and plaster is pretty prevalent throughout. So, how does it differ from drywall? Well after checking into it a bit, here are some things I found out: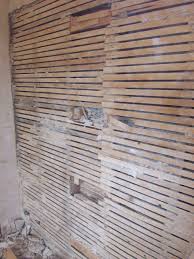 Plaster used to be the way all walls were made. There would be a layer of wood lath put up and covered by several coats of plaster. This was very labor-intensive and also required a good bit of skill to get it smooth and uniform. The benefits of this method are that these plaster walls are pretty thick ‒— almost 1 inch versus drywall's 1/2 inch thickness. This means the walls hold sound better than drywall. It also means plaster is more fire resistant and more bullet resistant (good to know if you live in a bad part of town, right?).
Another benefit of plaster is that it stands the test of time: because it is a harder material than drywall and less porous, it is less susceptible to mold. This is probably good, as many of these older Arlington homes tend to flood at the mere mention of rain.
A downside to plaster is cost. Drywall is much easier and cheaper to install and is now more typically the way things are done. Also, since it requires a certain amount of skill to work with plaster, if you have a repair like this ( pic 3) then you may want to consider hiring a professional to come help you out.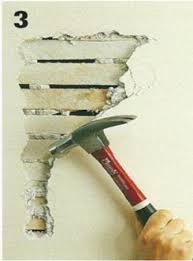 If you have questions regarding your home improvements in Arlington, Virginia, call the experts at Moss Home Services. Whether you have plaster or drywall, the professionals at Moss can help! Call us at 703.961.7707 or email Sales@MossBuildingandDesign.com.
Contact me at PKopiak@MossBuildingandDesign.com if you would like to schedule a HandyMOM101 or HandyGirl 101 workshop in Arlington!