By: Jeannine Miller (JMiller@MossBuildingandDesign.com)
In today's world of virtual reality, the opportunity to 'kick the tires' before you buy a product is becoming more and more rare. At MOSS, we believe the best way to determine whether you want to hire a company is to meet their employees in person and actually see and touch the company's product. Add in the ability to speak candidly with previous customers and you can truly make an informed decision. We believe hosting an Open House at one of our completed projects is the perfect opportunity for you to do all of the above.

Please join us on Thursday evening, November 3rd, as we reveal a beautiful open-concept kitchen and outdoor living space in Arlington. This 1965 home has been updated to meet the needs of a family who loves their location, but had outgrown their space. MOSS worked closely with the homeowners to expand their existing footprint and achieve their goals of:
An eat-in kitchen with plenty of room to accommodate all family members
An open, informal space for entertaining
Maximizing deck space for use in at least three seasons
The result is a fantastic new space that reflects our customers' lifestyle and personal taste.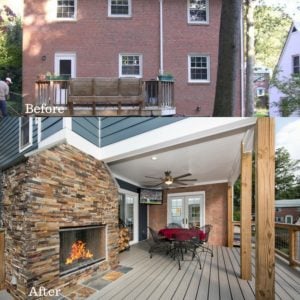 Come see for yourself how this lovely home has been transformed.
Register for this free event by clicking HERE.
And now a word from my sponsor:
Best Remodeler in Arlington
Moss Building & Design was voted the Best Remodeler in Arlington Magazine's Best of Arlington 2016! If you're in the market for some home remodeling, call the experts at Moss Building & Design. We will consult with you and help you explore the many possibilities for updating your home. Call 703-961-7707 to schedule an appointment for a free estimate.
In addition to blogging about all things home and family-related, Jeannine Miller is a member of Moss Building & Design's Community Relations team.