Tips for Designing your Home Office

By Pam Kopiak (PKopiak@MossBuildingandDesign.com)
If you do ANY work from home or perhaps if you just don't enjoy the living room coffee table being the home for your laptop, you probably have considered creating an office space somewhere in your Northern Virginia home. There are a few things you should consider before moving forward. Think about these tips from Arlington's top contractor when considering an in home office:
How much space will be required for your home office design
How much space you will need will depend on the function of the office. Consider the following: Are you going to be meeting with clients or is this space just for yourself? What about storage for your files or accessories? One of the most common mistakes people make when setting up their home office is not creating enough storage space. It is important to think through what will need to be put away versus making piles all over your work space or on the floor (guilty party here!).
A homeowner in Arlington, VA decided they needed more space in their home for an office. They hired MOSS to complete an office addition off the side of their home (pictured below). This allowed plenty of space for the homeowner to work from home. It includes appropriate office furniture to include a sitting area to meet with clients, desk space, and an abundance of storage options.

The location of your in home office is definitely an important factor. If you are having clients over, you may want to consider having your office near an entry point so they don't have to tramp through your whole house (close the door to that toy room!) to get to your meeting spot. Or maybe you want it convenient to where you spend a majority of your time, the kitchen being a hot spot.
MOSS Tip: If you'd like your home office to be located near a busy area of your home, consider adding sliding barn doors. This is a nice way to keep it closed off when it's not in use, and it will keep noise levels lower. It also enhances the design of the space.
The Arlington remodel pictured below showcases an office directly adjacent to the kitchen with a sliding barn door.


If you're looking for a quiet space in your home for an office, consider the basement. With sound dampening technology you can make your basement office a quiet haven for you to tackle any task.
Let's face it. Not all areas of the home are created equally when it comes to lighting. While it may be great for a room to be considered dark if we are talking about a home theater space or maybe a dark room for developing photos (does anyone do that anymore?), most in home offices require good lighting. If you have decided to locate your office in the basement, there might not be a good source of natural night. Think about what sort of general or task lighting might work best.
One McLean homeowner chose to put their office space in the basement of their home. The office included a great working station with shelving and cabinets for storage. They also chose recessed lighting to brighten up the work space (pictured below).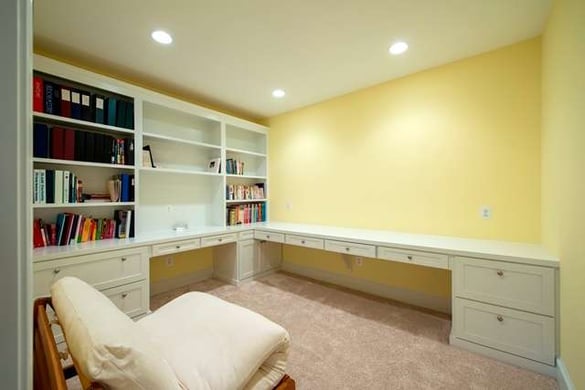 The beauty of remodeling is that you can design any space to accommodate your lifestyle. Think about the things that are most important to you and consider space, location, and lighting when designing your home office. MOSS remodeling professionals are always available to answer questions and share ideas. If you would like to discuss you remodeling plans or have general questions call MOSS at 703.961.7707 or email Sales@MossBuildingandDesign.com