Defining your Basement
When you think of your basement, be honest, do you think of it as your favorite room in the house? Is it the room that can be classified as having a design? Is it cohesive with your overall home design? Is it the room you want to show off to people when they come to your home?
You probably answered "no" to the questions above because traditionally, basements aren't the design hub of the home. Basements are a catch-all, a man-cave, a playroom, or all these things and more. Basements function to be what every other room in your home can't be.
But what if you redefined what a basement could be by the way you approached basement design?
Redefine your Basement
Redefine how your basement functions by changing the way you see your basement.What higher function could it be serving?If it is used for storage make sure it is as functional as possible and that the storage is organized.If the room is a play area, find useful places to store these toys when they aren't being used. One area is using the space under the basement stairs.
Using Texture in your Basement
The way you change the look and feel of a typical basement is by adding texture. You can do this either on the ceiling, floor, or on the walls. By adding texture, you:
Gain dimension in your basement
Most basements do not have a lot of natural light so when you remodel your basement you can add texture to create focal points in your basement and play tonally with artificial light.
Create a cohesive home design
Traditionally, basements are not seen as a room that has a specific design. As a multi-purpose room, they take on whatever function they need to and become a bland room as a result. But by seeing basements in a new way, it can become part of your home design and can be dressed up as a distinct room of its own.
Enhance what a basement is "supposed" to look like
Basements of the past were known as the catch-all room, the room for sleepovers, and the room of water leaks and creaky nighttime noises. Give your basement a design that gives it both a distinct personality and a function.
Basement Ceiling Ideas
First, you can incorporate texture in your basement through the ceiling. Ceiling texture can come from exposed beams (example in picture below), tray ceilings, coffered ceilings, or by using textured panels or tile. Some of these options many not be possible with all basements as basement ceiling heights can vary with building codes and with the home's structure.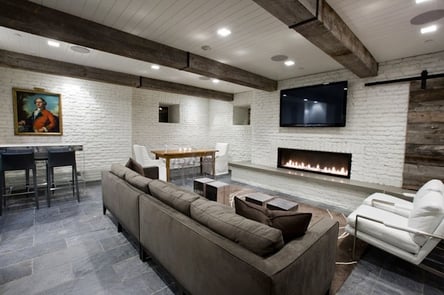 Basement Floor Ideas
You can create more interest in your basement design by using different material on the floor or designating different areas with different flooring. You can choose carpet, ceramic tile, or wood. A new, popular choice is cork (pictured below) which is very resilient and can add a lot of personality.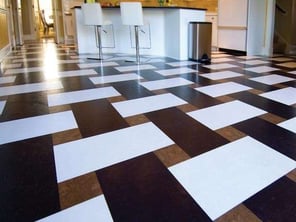 Basement Wall Texture
Finally, texture can be integrated into your basement design through your walls. Options include paneling, stone work, metal work, and brick.
In this basement remodel in Ashburn, VA pictured below, the metal work in the walls not only provides a focal point, but also adds dimension to the room in the way the metal interact with the lighting in the basement.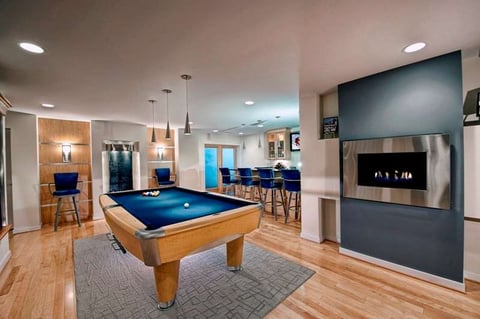 You may also consider bringing in texture through brick. Brick is a great medium to use because it automatically brings personality to a room because brick itself is not a uniform material.
In this basement remodel in McLean, VA, seen below, the featured brick wall in the basement space provides a focal point from which the rest of the basement design can grow.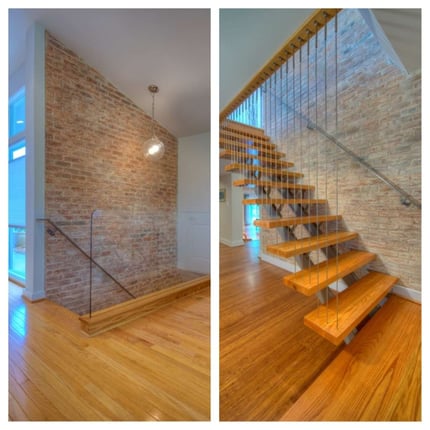 For more basement ideas or any remodeling trends, keep up with us on our blog. At Moss, we provide a remodel that that works for your personal style, your family, and your budget. To integrate any of these designs or to see how we can create a great space in your basement, please contact Moss at 703-961-7707 or email us at Sales@MossBuildingandDesign.com.
Your basement dreams can become a reality through our payment options for projects up to $45,000. These options are provided by Enerbank and include no interest and no payment options for 6 months and 12 months. As well there is a 6.99% reduced interest rate loan for 5 years or 10 years.
Moss Building & Design specializes in basement renovations, additions, kitchen remodeling and bathroom remodels. In addition to our Northern Virginia remodeling services, we also offer handyman, plumbing, electrical, tile roofing & siding with Moss Home Services.
Photo Credit:
http://www.decorpad.com/photo.htm?photoId=100484
http://www.hgtvremodels.com/interiors/cork-a-natural-floor-choice/index.html