Remodeling Your Basement For Your In-Laws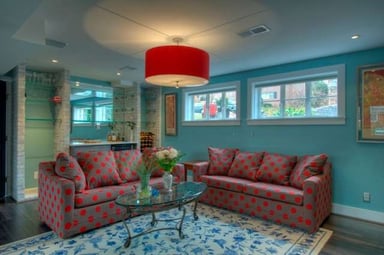 We've done several blog posts on how easy it is to use your basement to meet several of your needs. For example, if you want a media room or space for a gym, you can have it all in your basement which effectively combines your needs in one space. However, more and more homeowners are choosing to remodel their basement in order to take care of their aging parents or in-laws.
Remodeling your basement for aging parents allows them freedom while still giving you peace of mind that you will be there should they need you. Homeowners who have basements with 8 or 9ft ceilings have enough room to provide living space for parents or in-laws.
Homeowners adding a private area to their basements include a wet bar/kitchenette, bedroom and bathroom. Typically, the basement already has a living area so add that to the new kitchenette, bedroom and bathroom and you have a new living space to accommodate in-laws, or guests. Many basements also have windows above ground so that the space wouldn't be completely closed in and will provide the benefit of some natural light.
Creating an additional living space in your basement offers many benefits which include:
By remodeling your basement you can add the additional living space without changing the existing footprint.
You get the space you need without interfering with your yard space.
You have a functional space for your in-laws without having to re-do another portion of your home.
It's cost efficient.
Basement Renovations in Northern Virginia
Whether you need an in-law suite, or you want to add a wet bar and media room to your basement, Moss can help! We're happy to answer any remodeling questions you may have and we'll give you feedback that will help you go in the right direction to suit your needs. We also offer payment options for project s up to $45,000 that could be used towards your next basement remodel. Call us at 703.961.7707 and we'll get you started on your home improvement.