Finish Your Basement with Northern Virginia's Top Basement Contractor
So you're thinking about remodeling. A good room to start with is your basement. In recent weeks, we've covered how you can turn your unfinished basement into a great space for your home design. As well your basement has the room to turn into an in-law suite or to create a haven for your kids or for yourself. A basement, unlike other rooms in your home, is a very adaptable space which can grow with you and your family.
The Process of Remodeling your Basement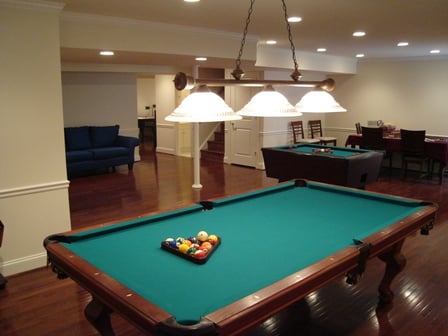 The remodeling process can be overwhelming because of the number of options, cost, and the effect construction can have on your family and home. If you are considering work on your basement, it can put you at ease to know what the first steps will look like especially through Moss Building and Design.
On our in-home consultation, our Sales Consultants will listen to your ideas and needs to get as much information about your project as possible. We want to get to know you and understand the best approach to give you a customized experience that will meet your needs. At this stage of talking through your project you may find:
You know exactly what you are looking for down to the exact selections
You know certain concepts you want to add to your basement like maximizing space and adding design elements, but are unsure how to do so
You are open to ideas and a collaborative process because you just want something new for your space
Through the in-home consultation, our sales consultants get to the finer details of the rhythm of your home life to see what design and ideas will best fit your family and home but also your schedule and needs. After all, your home still needs to feel like home even if a remodeling project is happening in the background.
Questions about Home Remodeling
Camille DeLew, a basement Sales Consultant at Moss, will first ask "What is your overall purpose in remodeling this space?" as a good place to start the discussion. From here, Camille can get a range of answers:
Parents are moving in with the clients or frequent guests need their own space
Clients want a space to entertain (wet bar, media room, etc.)
Clients need more space; would like to add a bathroom to their home
Want a space for their kids to play and to keep the toys off the main level of the home
Once the overall purpose of the space is determined, Camille goes deeper into the scope of the project with questions that cover:
"Were you thinking of a separate media area where you can watch movies as a family?"
"Do you want to keep the room "open" or do you want specific areas closed in?"
"Do you need more storage?"
"Do you need a functional kitchenette or a bar for entertaining?"
When the Sales Consultant has gathered enough information about your project and your family life, measurements are taken and a proposed design is sketched out, along with a scope of work.
One of the things that sets Moss apart is our proposals. We take the time to give you an estimate that will not increase when your remodel is finished. We want to eliminate any surprises and that starts with giving you a very accurate proposal that you can count on. Moss Sales Consultants are always willing to talk through your proposal, answer any questions and make revisions where you see fit.
Once you are ready to move forward you will work closely with your team that consists of your Sales Consultant, Customer Care Manager and Project Manager. Your team will work closely together and with you to make sure you get superior customer care, as well a beautiful renovated space.
Making your Basement Ideas a Reality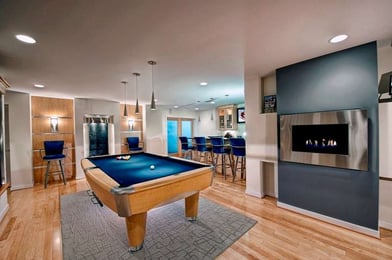 Remodeling at Moss is a collaborative process that allows our clients to find the right design for their budget and home. This collaborative process ensures that your needs are met and the basement you are looking for becomes the end product you receive.
Moss Building & Design and Moss Home Services is a family-owned company that can help get you started on your remodeling ideas. Your basement is just a few steps away with our turnkey approach to basement projects and our timeline to get your basement finished. We also offer payment options for projects up to $45,000 that could be used towards your next basement remodel. Call us at 703.961.7707 or email us at Sales@MossBuildingandDesign.com and we'll get you started on your home improvement.