Northern Virginia Basement Renovation with a Transitional Design
There are so many things you can do to make your basement a functional, beautiful space. Too often, a basement goes unfinished and becomes a catch-all for storage items such as old toys, décor that you'll never use again, and so much more. But who says it can't be a lovely space for everyone in your home to enjoy?
This basement remodel in Oakton, VA was unfinished and then transformed into a beautifully designed space.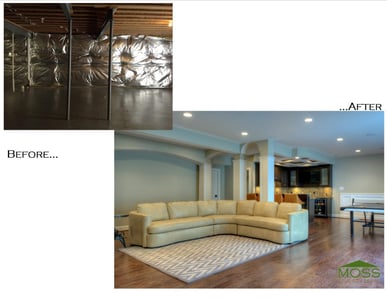 Basement Design Inspiration
This basement renovation included a media room, entertainment area/family room with wet bar and game area, bedroom, full bathroom and exercise room.
We worked closely with Another Eye Design in Oakton, VA to deliver the design and renovation that the homeowners wanted.
The homeowners taste is traditional throughout their entire house. They wanted the basement to be different and a little more trendy. They wanted it to look a little more contemporary but without going too extreme. Another Eye Design tailored the design and selections towards a more "transitional" style and décor.
Most of the house is decorated in warm colors—browns, golds, greens. Camille DeLew, Owner of Another Eye Design, decided that since the basement was completely separate from the main floor, it could accommodate a completely new color scheme. A beautiful warm gray, Benjamin Moore Revere Pewter, was used for the walls so that they could incorporate warmer tones for furniture and accessories that we pulled from the wet bar backsplash colors.
Oakton, VA Basement Remodel: Living Space with Wet Bar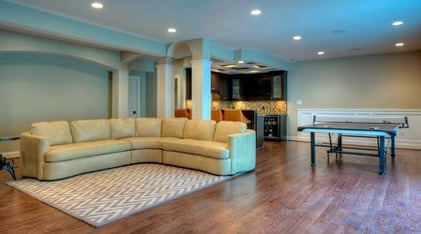 This basement remodel brings together the whole family. The homeowners wanted a place for both kids and adults to enjoy at the same time. They enjoy entertaining with their friends but didn't want the space to be too overcrowded by furniture. To maximize seating we included the sectional and the homeowner plans to add some additional seating to their new basement.
They wanted the space as open as possible to accommodate the kids playing sports, so we included space for a ping pong table and basketball hoop. The homeowners are also in the process of shopping for a round poker/game table with chairs so the homeowner can enjoy weekly poker games and the kids can use it as a game table with their friends.
They wanted the wet bar to accommodate drinks for kids and adults, a microwave for the kids to make snacks, an ice maker, and plenty of storage to hold dishes, glassware and flatware.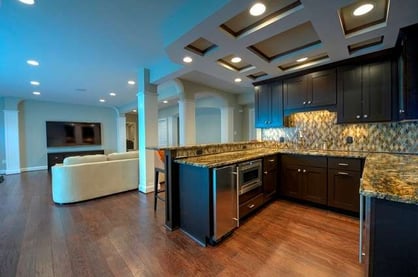 The ceiling over the wet bar presented an opportunity for creativity. There happened to be a large bulkhead and we knew we couldn't move the location of the wet bar, so we decided to use it to our advantage, give it some personality and make it into a tray ceiling.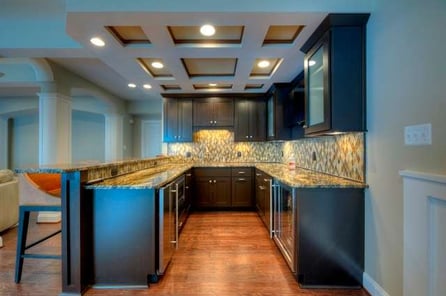 If there was one thing that was tricky about this project, it was the columns. Camille DeLew, Another Eye Design, recalls: "There were several posts throughout the main area of the basement and we had to figure out a way to incorporate them into the design and prevent the room from becoming "choppy". Ryan Pettit, of Moss Building and Design, and I worked together to design archways throughout the basement. Then I selected furniture (ie; cream colored sectional) that flowed easily around them so that the archways looked intentional."
Basement Remodel: Media Room
The homeowners like to spend a lot of time together watching movies and decided they didn't want the traditional stadium seating. They wanted to be able to lay down and be comfortable, so they decided on a large, deep sectional with lots of pillows. This was the best way for them to maximize the seating in the media room.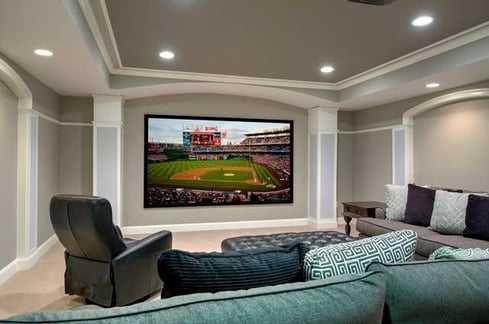 The colors that were used in the media room were BM Ozark Shadows AC-26 on the walls, BM Galveston Gray AC-27 on their ceiling, BM Decorator's white on the ceiling, trim and doors.
Basement Contractors in Northern Virginia
To see photos of our entire project check out our portfolio. Whether you want to finish your basement to be an in-law suite, media room, entertainment space, or to add guest rooms we can help make your renovation dream a reality. To schedule a free estimate or to speak with a Moss professional about your project, call us at 703.961.7707 or email us at Sales@MossBuildingandDesign.com