Finish Your Basement For Additional Living Space
The holidays have come and gone and if you're like most homeowners you're starting to realize that you may need some more space in your home. Whether it was the numerous amounts of people in your home this holiday season or the over abundance of toys, finishing your basement could be a great way to add additional space to your Northern Virginia home.
Finished Basement in Ashburn, VA
Finishing your basement can give you additional bedroom space, more room to host social or holiday gatherings, or it can be an excellent play area for your children. The beauty of having this finished space is that as your needs change you can change the space to meet your family's needs.
This basement in Ashburn, VA was unfinished and the homeowners wanted additional living space for guests, as well as an area to host social gatherings. Originally, the homeowners were going to move because they wanted more space, but then they decided that it was silly to move when they had an unfinished basement that they could use for additional space. Here is a look at the basement in Ashburn, VA before and after the remodel.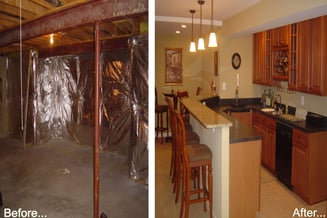 The addition of the wet bar makes it a great place to hold parties, and the additional living space makes for a great family hang-out. This family constantly uses their new basement, especially during the holidays. The homeowners love how they can escape downstairs and host fun gatherings. The family of five spends a lot of time together in the basement and it's really become the social hub of the home. When chatting with one of the homeowners we were informed that this basement has also turned into an awesome man cave for her husband.
Remodeled Basement in Oak Hill, VA
If you have smaller children, turning your basement into a play area can be a great idea. It gives the children a place to go and play and it's a catch-all for all those toys. This basement in Oak Hill, VA has a great play area for the children.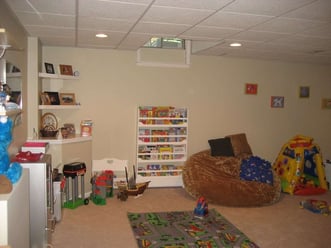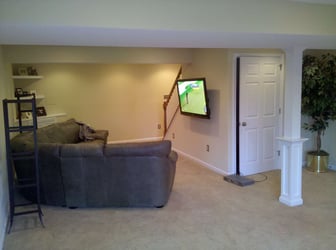 It also has space where the parents can hang out and watch tv while their children play. This space works for them now, but the great thing about this space is that it can change as their needs change. Later on it may change into a space for hosting parties and other events once the children get older.
Basement Remodeling
Finishing or remodeling your basement is one of the easiest ways to get additional space. Our special turnkey teams can finish a basement in just 3-4 weeks. They are the same team that will work on your job from start to finish, so you won't have any unfamiliar faces in your home. If you'd like additional space and would like to start by finishing or remodeling your basement call us at 703.961.7707 for a free estimate.