By Pam Kopiak (PKopiak@MossBuildingandDesign.com)
There was a time, not so long ago, when the term "wallpaper" brought fear to homeowners' hearts. For some, it still does. For others, wallpaper is making its way back in style. The reason being? Wallpaper is a quick way to add pizzazz to a space. It could be just an accent wall with some wallpaper (as I have seen in several of my friends' homes lately) or maybe an entire bathroom. For those of us (me included) who are still worried about the hassle of installing/removing wallpaper, there is an alternative to get the same effect.
Bold Color Choices for Your Bathroom Remodel
If you are considering a bathroom remodel or just want to change up your bathroom, think about incorporating a bold color in your design. The most popular colors for bathrooms are white, cream, beige and taupe colors so anything outside of these colors might be a place to start.
We've been seeing more and more bathrooms with bold colors, some more extreme than others. However, all of them compliment the bathroom design and show off the homeowners personal style.
A basement remodel in McLean, Virginia included a bathroom. The homeowners went with a soft purple paint for the room. It gives it a soft look and goes great with the bathroom vanity and shower tile.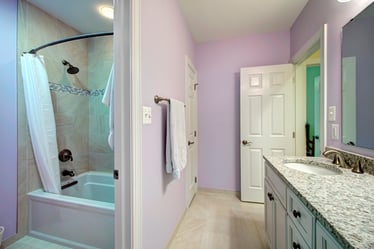 The bathroom remodel pictured below was part of an addition in Oakton, VA. It's a master suite bathroom so it is a space shared by the homeowners. They went with a yellow paint color in the bathroom. It's a nice neutral color that isn't too feminine or masculine. Paired with the bathroom vanities and bathroom lighting (check out that gorgeous chandelier) the color worked for their design.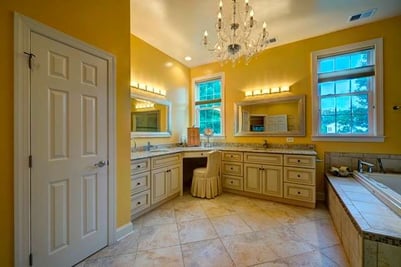 Want to take it a step further? If you are into more of a contemporary design you could consider contrasting bold paint colors. The hall bathroom in this Fairfax Station Addition paired bold blues and golds with a contemporary bathroom vanity.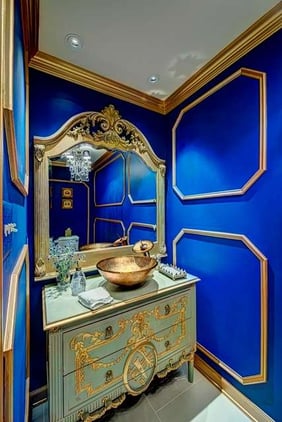 MOSS Tip: If you're looking to make a bold contrast statement, adding trim to the wall or crown molding around the ceiling is an easy way to accomplish a bold contrast.
Would you be up for trying a bold color in your bathroom? Afterall, it is just paint. If it turns out you don't love it as much as you thought you would, there is always a million other colors to choose from. Show us your bold bathrooms by using the hashtag #MOSSGoesBold!
If you are looking to remodel your bathroom and just don't know where to start, the professionals at Moss Building and Design are always available to answer questions and share ideas. If you would like to discuss your remodeling plans or have general questions call MOSS at 703.961.7707 or email Sales@MossBuildingandDesign.com.