Bathroom Remodel
Bathrooms serve a similar function to kitchens through their necessity to families. These rooms are most used by homeowners and they are rooms that need to go the distance. A bathroom may see your children through adolescence to early adulthood or it could be a room that sees you through from a single adult to starting a family. Whatever the case, your bathroom is a room that needs to be invested in.
No matter the size of a bathroom, it is all about the details: your bathroom mirrors, bathroom vanities, bathroom cabinets. These things, though not defined the most by their utility like the shower, can create a personality in your bathroom. As well they are smaller fixes in your bathroom that can help you decide whether a small fix is enough or whether your entire bathroom needs to be remodeled.
Bathroom Vanities
Your bathroom vanity is a big piece in creating a personality for your bathroom. For smaller spaces, a pedestal sink will not only make the space look bigger but it will also give you more room to create storage.
Smaller bathrooms afford room to create storage if you make use of your space in unique and efficient ways. A smaller vanity can give you space for an extra cabinet or shelving underneath the vanity. Seen below is an example of a pedestal sink and storage in a bathroom remodel in Great Falls, VA.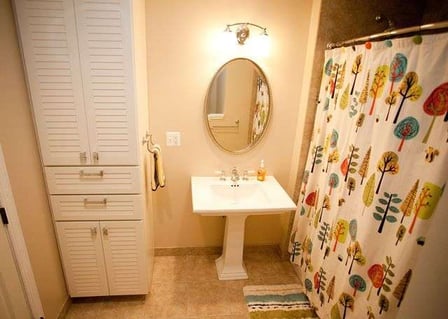 For a larger bathroom, your vanity can become the feature piece. A popular bathroom trend is using pieces that look like furniture or even repurposing furniture to become a bathroom vanity. This in-law suite bathroom in Burke, VA, pictured below, repurposed a dresser to serve as their bathroom vanity.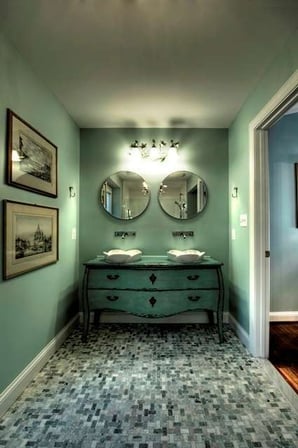 Bathroom Mirrors
The most fun in remodeling any space is selecting the décor. A bathroom mirror is a really easy way to add some spark to your bathroom or be less traditional.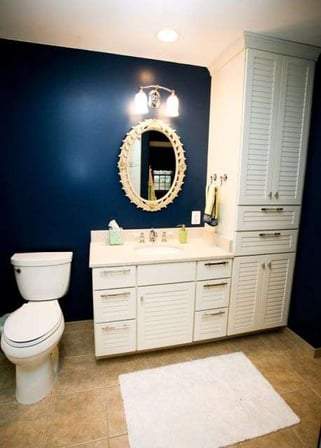 A recent trend in bathrooms is the use of two mirrors versus one large mirror. Two mirrors is a great idea for bathrooms with his and her sinks. As well they can add the illusion of a larger space and can add some design definition. This bathroom remodel in Alexandria, VA, decided two mirrors was the way to go versus one large mirror.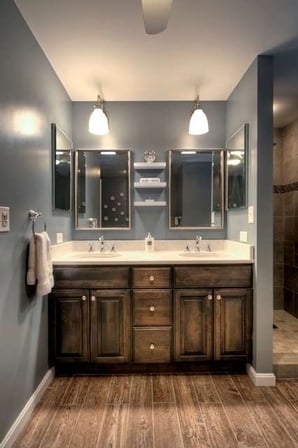 Bathroom Cabinets
In a bathroom remodel, look for ways to add more storage space. In this bathroom remodel in Fairfax Station, VA, seen below, additional storage was included with these cabinets which gave great dimension to the room and added usability.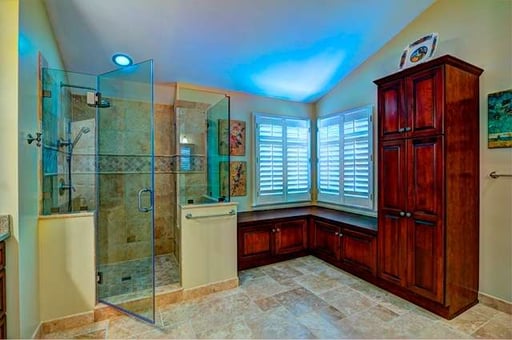 Even in smaller bathrooms, you can find room for additional storage whether it's using space over your toilet or using built-in cabinets.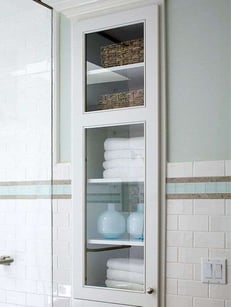 To get more ideas for your bathroom remodel or to put your ideas into action, call the experts at Moss Building and Design. Moss wants to shape your ideas to fit your taste, your home and your needs to ensure your remodel is everything you want it to be. Call us at 703-961-7707 or email us at Sales@MossBuildingandDesign.com to schedule a free estimate.
Photo Credit: http://www.bhg.com/bathroom/storage/storage-solutions/store-more-in-your-bathroom/