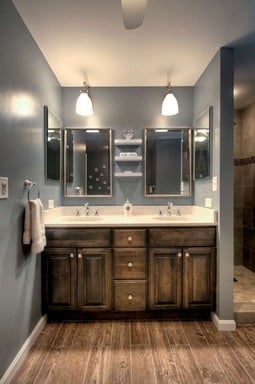 Trends For Your Bathroom Remodel

By – Jenn Zschunke (jzschunke@mossbuildinganddesign.com)
When remodeling your bathroom, one would consider the idea of bathroom lighting to have the overarching theme of being utilitarian – that is, useful, bright, and not very dramatic or interesting. But lately, in the bathroom design world and among our Northern Virginia clients, Moss has found that the bathroom lighting trend is heading more towards the use of designer lighting: that is, the use of beautiful chandeliers, colorful sconces, and intriguing uses of light fixtures both on and under bathroom vanities.
Lighting can certainly change the look of any room, creating a feel in a living room of comfort or in a basement a feeling of warmth. Bathroom lighting is now taking on the trend of creating a place where one can put a personal design stamp on a room in a home that in the past might have been overlooked. Designers are certainly making the most of completing a room with dramatic lighting. Some of the most exciting trends include the following looks, which we found at the DIY Network website: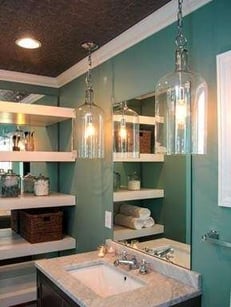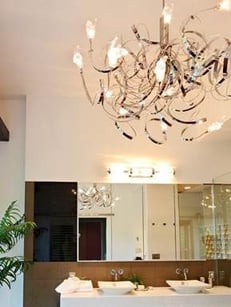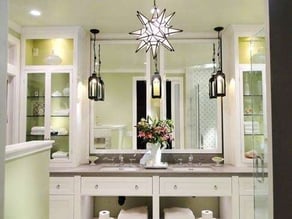 Lighting in Bathroom Vanities
Besides the use of the dramatic sconces, chandeliers and other interesting fixtures, Moss has found that bathroom lighting is becoming more clever and more family friendly. The following photo shows the use of under cabinet lights for a bathroom, which would help children (and adults) who are up in the middle of the night – it could add to, or entirely negate the use of, nightlights.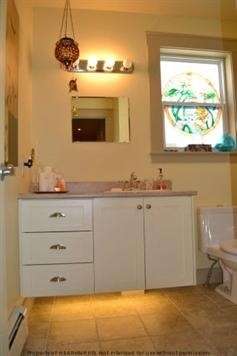 In the same vein, under vanity lighting would work the same magic on a bathroom – providing useful lighting that is subtle and helpful as well as giving a bathroom a soft look and feel.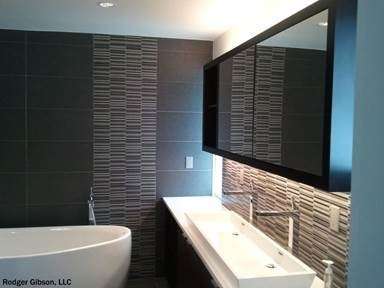 With all of these new and trending ideas, it is important to remember that lighting a bathroom needs to be done with intention – layering light in ways to assist our Northern Virginia clients is something we stress. Focus on light should be on four light "layers" in the bathroom:
Utility lighting: used to assist you at the sink/vanity area, showering, and bathing
Decorative lighting: sconces or pendants at the mirror or a chandelier
Accent lighting: a small recessed light
Soft, natural light
Bearing these layers in mind, Moss Home Services can assist in making our clients bathrooms as beautiful and unique as possible. Combinations of the four layers is also possible, which would reduce cost and also save space in a smaller bathroom. In the Vienna, VA bathroom pictured below, the lighting implements both lighting for tasks at the vanity, but also decorative and accent lighting through the use of light at the mirror.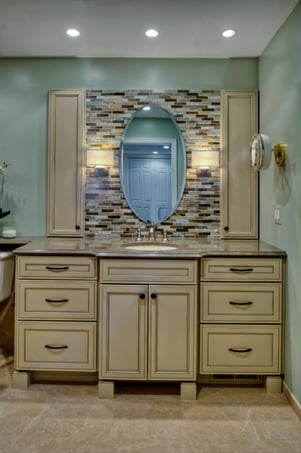 Bathroom Remodeling in Northern Virginia
If you're ready to remodel your bathroom or are interested in changing some smaller features like your lighting, call Moss at 703.961.7707 to schedule a free consultation. We're happy to answer any questions you have and give you the best feedback to make the right decision for your home improvements. Besides providing handyman services for your Northern Virginia home, our handymen are experienced in the installation of bathroom fixtures, vanities, and lighting.

Jenn Zschunke is a part of the Community Relations department. She plans HandyMom 101 workshop programs for Moss and coordinates philanthropic activities in her local community.

Photo Credit: http://www.diynetwork.com/ http://mervynedinger.agentsites.point2.com/ViewListingDetails.aspx?lid=3192 Improvenet.com