By – Jenn Zschunke (jzschunke@mossbuildinganddesign.com)
Bathroom remodels, while crucial to a home's resale value, have long been considered less impactful in comparison to kitchen remodels and other living spaces. That idea, compounded by years of lackluster bathroom features, has led to more utilitarian and generic design for bathroom remodels. However, that trend has been shifting for today's bathroom designers who are focusing on creating bathrooms that are truly rooms that are functional, incredibly comfortable and pleasing to the eye.
Moss has found our Northern Virginia clients to be well-attuned to this bathroom trend and happy to allow us to assist them as they upgrade the features in their bathrooms with thoughtful design elements that combine function and form to their best level for their budget and design ideas. One of the most crucial decisions a bathroom remodel undergoes is with the bathroom vanity –
Moss has found that not only is the material (granite, marble, laminate, wood, tile) important for your bathroom vanity, but, nowadays, are the ways that bathroom vanities can be manipulated to utilize space better and embrace today's modern technology: separation of his and hers sinks, semi-custom-built cabinetry to include tower units and other storage options, and/or modern technological twists including backlit medicine cabinets and specific chargers for bathroom appliances.
Bathroom Vanities: Space-Saving Design
Ideally, our clients would have bathrooms that could accommodate the trend pictured above, in which there are two vanities separated by a distance, giving the couple using the bathroom each their own space. In this bathroom remodel in Great Falls, VA (pictured below) they installed a cabinet to separate the his and her sinks.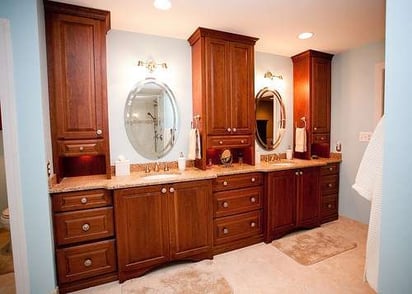 What Moss has been finding with our Northern Virginia clients is that, with smaller spaces, we are becoming more creative in the design options with bathroom vanities. Some clients are choosing to build custom tower units to separate his and hers sinks (pictured above), which utilizes space that is seldom used. Going higher with the cabinetry provides an interesting aesthetic and provides, clearly, more storage space (in addition to lower cabinetry storage). This master bathroom in Vienna, VA (pictured below) has a great space saving concept that builds up. Having a built-in provides the separation that is needed and makes the bathroom vanity more unique as well.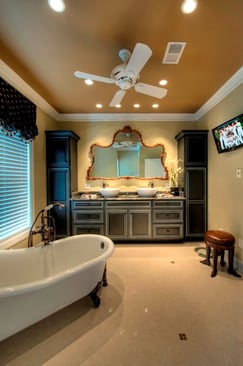 Another option for our clients is to have a stand-alone cabinetry unit. The same space is used and yet the distance provides an interesting and more fluid feel to the bathroom. Below is one of our bathroom remodels in Great Falls, VA that includes stand-alone cabinetry.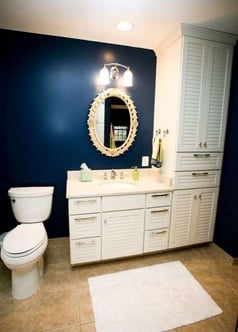 Bathroom Vanities: Functional Organization
Moss has found that recent trends for bathroom vanities also include the use of specific drawers and cabinetry for bathroom appliances – instead of our clients fumbling around for their hair dryers and electric razors and other such appliances in disorganized cabinetry, the latest trends offer specific spots for these items, making them easily accessible and reducing frustration (especially in early mornings). In addition to "everything has its own place", cabinetry can now be customized to include more outlets. Rather than struggling to plug and un-plug all the appliances (and then potentially forgetting something and finding their electric toothbrushes not working at night!), this new trend is a real time-saver.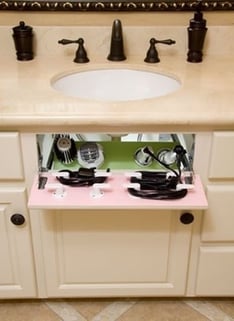 Also, cabinetry can be customized for bathroom paper products, making these usually boring items more organized and less cumbersome.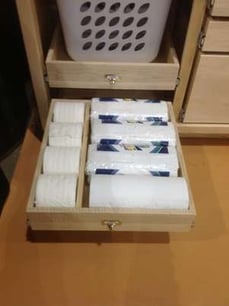 Bathroom Vanities: Modern Technology
Moss has been finding that our Northern Virginia clients are excited about the technological options available in the world of bathroom remodels. One of the most interesting trends is the ability for medicine cabinets to be recessed into walls – from an aesthetic point of view; this certainly helps with the look and feel of the bathroom (no more jutting out metal sides!). Medicine cabinets can now be back lit and wired to provide hidden charging stations for toothbrushes and other small appliances. In addition, some companies are offering medicine cabinets of which a portion is refrigerated: keeping nail polish, organic skin products, and medication that needs to be cold, accessible AND chilled, as in the example featured below.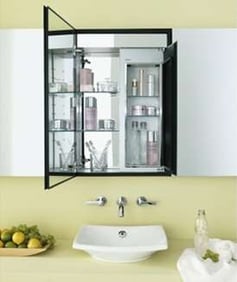 Bathroom vanities have truly become a feature that is customizable and unique to the individual client.
Contact the Northern Virginia handyman experts, Moss Home Services at 703-961-7707 for a free estimate and to learn more about our services. Jenn Zschunke is a part of the Community Relations department. She plans HandyMom 101 workshop programs for Moss and coordinates philanthropic activities in her local community.
Photo credits: