A Shout-out To The Moms!
By – Jeannine Miller (jmiller@mossbuildinganddesign.com)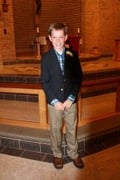 PARTIES ARE FUN. PARTIES ARE A LOT OF WORK. I just finished putting on a shindig to celebrate my oldest son's 1st Communion. Since the church service was three days before Easter, I decided that an Easter Sunday luncheon at my Northern VA home would be the way to go for the party.
Talk about pressure -- I've just asked our guests to forego their normal Easter routine in favor of coming to our house. There was a point during this process when I longed for my 20s when my roommate, Steph, and I would look at each other on a gorgeous Saturday afternoon and be like "Want to have a party tonight?" One quick run to Cork 'n Bottle and the party was on. Those days are gone.
Moss Home Services
I started

off right by hiring a Moss Home Services' handyman. The honey-do list got checked off in no time at all. Where I got into trouble was creating a Board on Pinterest. I had been saving images of food, centerpieces, party favors, décor, etc. for months instead of using that time to clean my house and, in general, prep for the party. Of the gazillion ideas I Pinned, I did exactly five. (I'm a big talker, not so much on the follow-through.) I will say that my Peep wreath DID rock and I will be talking about it for the next year.
"The Moms"
So midweek before the party, the relatives start arriving, thinking they're on vacation. Au contraire. I was so not ready. I don't know how on earth I thought I could host 8 people for a week and then throw a party for 40 all by myself. Enter "The Moms." My mom, my mother-in-law and my stepmom went to town and worked their tails off. They smiled and joked the whole time and actually looked like they were having fun, whether they were preparing food or mopping my floor. Who DOES that? A mom, that's who. I handed them recipes and centerpiece ideas and, instead of asking me if I'd lost my mind, they turned them into reality.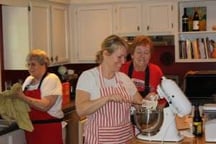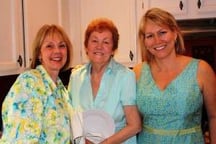 By the time the guests arrived, The Moms had my home and yard set for a lovely garden party. It was amazing. I got to spend the party walking around, chatting with friends and refilling glasses with this bubbly thing or that. It was a super special day that will always be treasured.
I'll leave you with this piece of advice: The next time you're going to throw a shindig, round 'em up…your mom, your stepmom, your mother-in-law…heck, even try for your kid's room mom because you need them all. And, most importantly, be sure to do something special for your mom to thank her for all she has done for you on Mother's Day, May 13th!