Choosing the Right Addition for your Northern Virginia Home
Home additions are a large undertaking not only for a family but for the home itself. An addition, depending on the type, can make a home take on a completely different look. But with this added look comes the added utility that an addition provides. In-law suite additions are very popular right now, providing peace of mind and enough room for additional family members in the house. (For more information, see our recent in-law suite addition featured in The Washington Post.) As well, an over the garage addition takes advantage of space that is usually ignored without needing additional square footage.
With every addition, there is a different need or situation which makes the decision very personalized. In this blog, we will focus on a one room office addition in Arlington, VA.
Home Addition in Arlington, VA
Additions have useful benefits not only for the value of your home but also for the family use in the home. For this particular addition, the homeowners knew exactly what they wanted –a home office. As one of them needed the space to run a business from home, the new space would add a great value to their lives even outside of their home.
The room addition was approximately a 20x12 space complete with storage and a large built-in desk.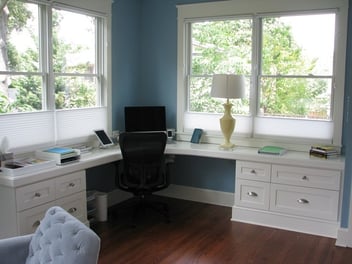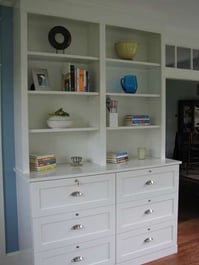 The room features an abundance of natural light which gives the room a relaxing feel combined with the addition's cool design.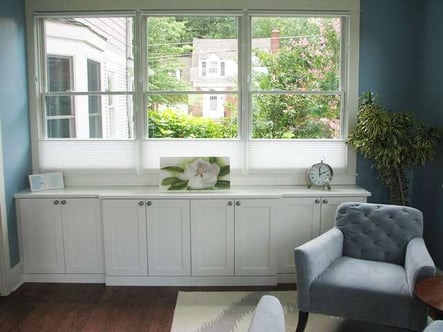 A focal point of the space is the additional seating offered in the room which provides a quiet place for morning reflection or a great spot for the homeowner's clients to come and meet with her.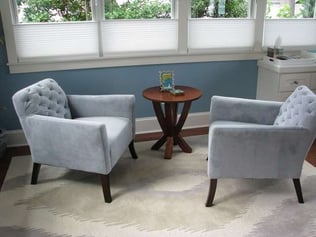 On this particular job, Project Manager, Brandon Sarina, had to ensure that the exterior matched an existing porch with the column details as well as the wooding detailing at the bottom of the structure. Landscaping was important to the homeowners and wanted to keep many plants out of harm's way throughout construction.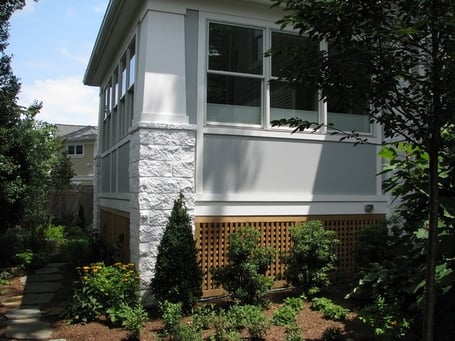 Best Contractor in Northern Virginia
Moss would be glad to meet with you and talk over your ideas for any of your remodeling plans including additions, kitchens, bathrooms and basements. What sets Moss apart from other remodelers is our collaborative process which allows us to give our clients the knowledge to make the best decision for their home and family.
Check out our portfolios to see our completed remodels to get an idea of Moss' work as well as ideas for your remodel. You can also stay connected with Moss through our app where you can submit project inquires along with photos of your home improvement needs. Download it today-available on Google Play and iTunes or call us for a free estimate at 703.961.7707.