Laundry Room Design
The laundry room is an especially important room in the home though as a homeowner, the room might not be as large as you would hope.
Years ago, laundry rooms were always found in the basement though today, some homeowners have their laundry room near their kitchen or near the master bedroom.
But no matter if you have a large or small laundry room, it's all about organization and making choices that make the most sense for the space you do have.
Home Improvement Ideas For Your Laundry Room
The best way to make the most out of your laundry room is implementing storage that makes the most sense for the size of the space and for your routine. Though you may see a design that you really like, the idea doesn't always translate to the size of your home space or for your everyday needs.
You can add storage through the use of shelving and bins.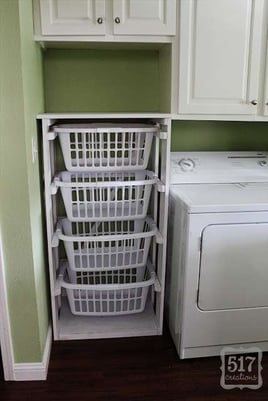 This design allows you the space and option to sort your laundry by color and make or by person. If you are trying to give your younger children a sense of home chores, this design would give them a space to bring their laundry to ensure organization.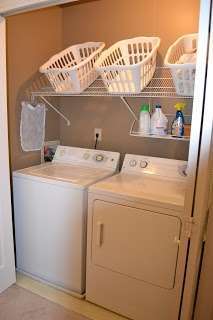 This idea frees up a lot of space and makes a lot of sense if your laundry is very narrow or has little floor or extra wall space.
In this Vienna, VA basement laundry room seen below, the homeowners were able to make due of a smaller space by stacking the washer and dryer with room for storage beside the units as well as an extra sink.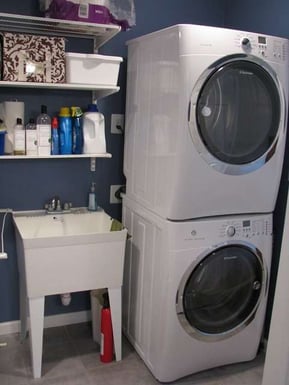 Ideas For Larger Laundry Rooms
If your laundry room is near the front of your home and is a large enough space, you can make the room multi-functional as a mudroom as well.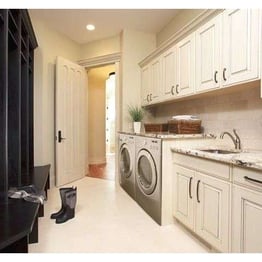 As well for those that may have the option, this idea seen below can make a laundry room near your master bedroom a very effective method by having an opening between the master closet and the laundry room.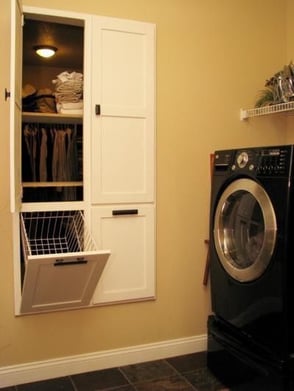 Home Décor Ideas
To add some whimsy in your laundry room, you can create décor from organization.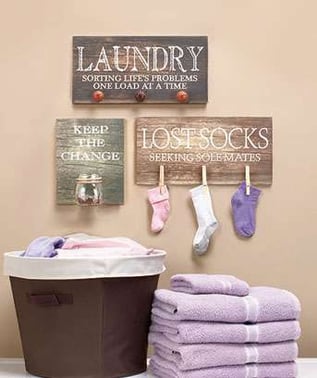 This idea will not only add charm to an otherwise bland room but it is also useful décor. It also is a good way for younger children to enjoy chores and to understand organization.
Best Remodeler in Northern Virginia
For any of your remodeling plans from additions to kitchens, bathrooms and basements, Moss would be glad to meet with you and talk over your ideas. What sets Moss apart from other remodelers is our collaborative process which allows us to work with our clients to give them the knowledge that will help them make the best decision for their home and family.
Check out our portfolios to see our completed remodels to get an idea of Moss' work as well as ideas for your remodel. You can also stay connected with Moss through our Pinterest and Houzz page for more design ideas from our portfolio and our sources. Call us today to schedule a free in-home consultation at 703.961.7707.
Photo Credit:
http://517creations.blogspot.com/2012/10/laundry-basket-dresser.html
http://holdontoyourhatsblog.blogspot.com/2011/11/laundry-closet.html
Houzz.com
http://followeveryday.blogspot.com/
http://www.lakeside.com/For-the-Home/Decorative-Accents/Wall%2BArt/Laundry-Room-Wall-Hanging/prod1100184.jmp?sorted=Y&navAction=push&fm=leftnav&categoryId=cat52158&navCount=0