Take a Risk with Painting your Remodeling
No matter if you are looking into a major home remodel or just need a few home improvements to spruce up your space, paint is a great way to get a much needed change in your home design.
You don't even need to use a great deal of paint in order to get that new look you are looking for. Below are some of examples of great ways to use paint for a big impact.
Focal Wall
A focal wall can be a fun weekend DIY project to give a room a little pop of life. This idea is a great way to play with a feisty color without having a big commitment or having to change too many accessories or the style in a particular room.
Even choosing a muted color choice in a focal wall (seen in the photo below) can maintain a soothing room: highlighting minimal accessories and giving your room a modernist feel.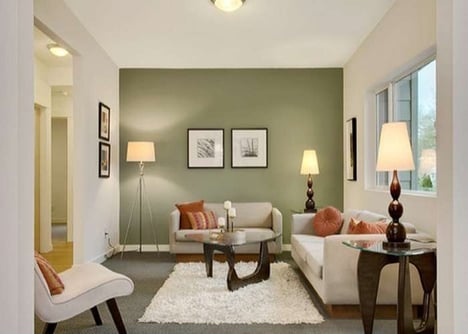 Paint your Bookshelves
While you can paint a free standing book shelf or built-ins to great effect, consider painting the interior as a way to add some drama.
By doing so, you can allow your bookshelf to stand out from the background. As well this mix of color will allow items on the shelves to become focal points.
For styling purposes, this effect will be better suited by paring down items on the bookshelves so that they don't appear too cluttered and the effect is even more stunning.
You can be bold in your paint choice but even a more neutral color can leave an impression similar to a toned down focal wall.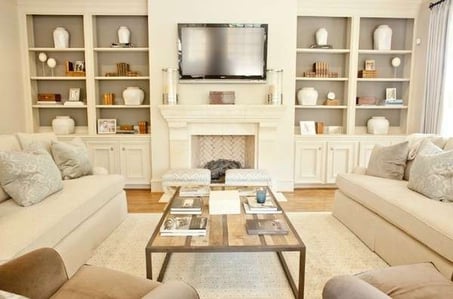 Spice up your Chandelier
Whether you are always on the hunt for yard sale treasures or you have a few unused antiques of your own, a great DIY project is painting an old chandelier and giving it new life.
A painted chandelier can give a room both a modern feel with color and a nod to classic taste in one look. These pieces extenuated home offices, walk-in closets, smaller bathrooms, and teenage bedrooms.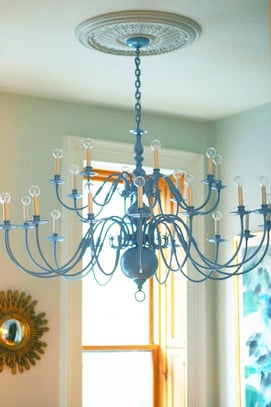 What will be your DIY project this weekend? Keep an eye on our blogs for the newest in home trends and to get ideas for your home design.
Contact Moss at 703-961-7707 or Sales@MossBuildingandDesign.com to get started on anything from kitchen remodels to home services.
Photo Credit:
http://www.design-eyeonline.com/wp-content/uploads/2013/04/bf9840e462623caa2b24f9453e203ed4.jpg
http://www.favhomedecors.com/wp-content/uploads/2014/03/focal_wall_color_for_living_room_4___thoughtequitymotion_top_paint_colors_for_living_rooms.jpg
http://i224.photobucket.com/albums/dd246/jkomenda/Album%203/DSC_0070.jpg