Learn How to Caulk for your Home Improvement Projects
Last week we went over 5 Ways to Prepare your Home for Fall, but we got a few questions specifically about caulking your windows and door frames. We decided to go more in-depth on this project because caulking is a skill every homeowner should have in their proverbial tool belt.
DIY Caulking will involve a number of materials that you'll want to have ready for your project. These include:
Caulk cartridge

Caulking gun (medium duty)

Caulking tool

Utility knife

Grease-cutting cleaner

Rubbing alcohol

Painter's Tape

Sponge
First Things First
For each DIY caulking job, you'll need to determine what kind of caulk is best for your project. There are three varieties you can choose from.
Latex: Best for dry areas of your home interior.
Silicone: Best for wet areas of your home interior.
Butyl Rubber: Best for home exterior projects.
While caulk can be dispensed in two forms-- squeeze tubes or cartridges, we recommend a caulking cartridge and gun. Like the one below.
DIY Step 1 -- Remove Old Caulk
For your DIY caulk repair to be effective, you first need to remove the old caulk and prepare the surface.

Remove old caulk from the surfaces (ex: both the tile and bathtub) with a retractable razor blade scraper, carefully.

Clean and vacuum the debris and the open joint until both surfaces are clean and dry.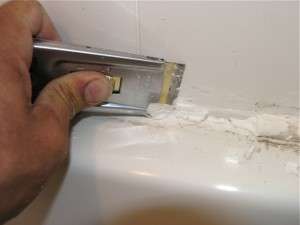 DIY Step 2-- Tape off Surfaces
The key to a professional-looking DIY caulk job is to tape off both surfaces. This protects the material surrounding the caulking area. If you don't do this, you might end up with very wide caulk joints once you try to smooth the joint out.
Use long sections of the painter's tape, (making sure it is straight) and mask off both surfaces at the point where you want the edge of the caulk to stop.

Taping off a thinner joint, approximately ¼" total width will give you the best look.

Press down firmly on the edge of the tape along the caulk joint.
DIY Step 3 -- Apply Caulk
You've cleaned the joint and masked the space, so now you are ready to CAULK
To open, cut the tip of the caulk tube at a 45 degree angle and puncture the inner seal with a long nail or wire (usually a tip snip or puncture wire is included with the gun.)
Apply the caulk at a 45 degree angle.
Squeeze enough to get the caulk fully into the joint.
Work at a speed that is slow and consistent to give you a smooth joint.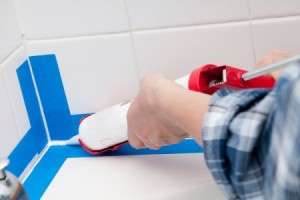 DIY Step 4 -- Smooth the Joint
After the caulk is applied, you can smooth out the joint. Masking the edges with tape will have proved worth it and your caulk joint will have a clean, sharp edge.
Take a sponge and dampen it with water. Add some rubbing alcohol if you are working with silicone caulk.

(The water serves as a lubricant and cutting agent while the joint is smoothed.)

Use firm pressure to smooth the caulk joint, working from one end to the other.

As the sponge becomes caked with excess caulk, wipe off and re-wet.
Continue the smoothing process until the entire section is finished.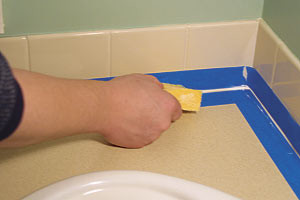 DIY Step 5-- Remove the Tape
After the joint is smoothed, you can remove the tape by pulling it away slowly and at an angle.
Ta-da! You have finished your caulking project.
Caulking is an essential skill to have for DIY home improvement projects and as shown in our earlier blog post, 5 Ways to Prepare your Home for Fall, it can help prevent leaks and cracks that may damage your home both inside and out. If you want a more in-depth crash course on caulking, you can join us for one of our HandyMom101 sessions, Caulk-It to learn how to caulk in a hands-on setting.
Photo References:
http://www.durodyne.com/AdhAppl.php
http://www.decoist.com/2015-03-26/tub-caulking-easy-steps/
http://www.doityourself.com/stry/how-to-apply-silicone-caulk
http://www.finehomebuilding.com/how-to/articles/making-sense-of-caulks-sealants.aspx
http://www.hallowedbethyhome.com/#!How-to-Recaulk-a-Shower-or-Tub-The-Joy-of-a-Clean-Bathroom/czqm/5575e71e0cf293eac8048b5b