By-Pam Kopiak (PKopiak@MossBuildingandDesign.com)
Who wants to lose a finger trying to do a DIY project or maintenance around the home? Absolutely no one --which is why MOSS' newest HandyMOM 101 workshop, Power It, could be perfect for you. In this workshop, our mission is to help you get comfortable around some of the common power tools out there: the drill and the saw. Under the guidance and watchful eye of our MOSS technicians, the participants of our most recent event, hosted by the Mothers of North Arlington (MONA), gained hands-on experience in a safe environment.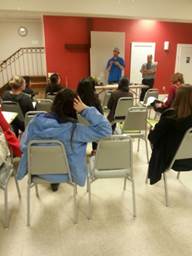 The ladies started the night by learning about power drills. MOSS technicians, Andrew and Brian, started by explaining the different parts of the drill and their accessories. Did you know that nowadays most drills have magnetic tips that are easy to attach and detach? Sure. But did you also know that a lot of drills now come with a light installed that activates when you start drilling? Pretty handy. Now you don't have to awkwardly hold a light and try to handle a drill.
Some other knowledge from the techs were that most drills have a sort of sleeve that comes up over the screw so you don't have to hold the screw in place while you work which means being able to work in a tighter space.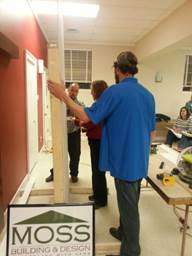 Along with drills, we also learned about using anchors; used when you might need to hang a picture or shelf (or maybe that curtain rod for the millionth time). An important sidenote is that you must check the package to see how much weight each anchor can support. At this HandyMOM workshop, the anchors were the E-Z Ancor brand available at Home Depot (http://www.homedepot.com/p/E-Z-Ancor-Twist-N-Lock-75-lb-Medium-Duty-Drywall-Anchors-50-Pack-25310/100040265); they hold up to 75 lbs and are super easy to use. These can even be used on a plaster wall (Hello, Arlington homeowners!). As shown on the box, they break apart once in the wall to truly anchor things down – a benefit of being able to see behind the wall in our demonstration.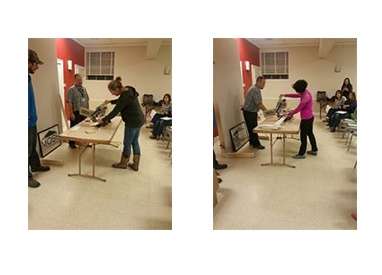 Another useful tidbit that the MOSS technicians told the ladies that had to do with the helpfulness of a finding a stud when trying to screw something into the wall. Until this workshop, I didn't know that there is a general rule as to how far apart these studs might be from one another – 16 inches. If you look at your measuring tape, you will notice that the numbers in 16 inch increments are in red – did you ever wonder about that? I will store that for future reference, along with the fact that the iPhone has a level function as part of the compass app. There you go.
We then moved on to the miter saw. This one is a bit more intimidating to some people. As Andrew advised the ladies, you just have to "own it" when working with this machine. Don't be afraid. First find out how to operate the machine safely (and correctly) and then be confident in this knowledge.
Some housekeeping with the miter saw: you want to make sure you have a good guard (what covers the blade when it isn't in use) and fence (this provides a precise cutting angle between the plane of the blade and the plane of the longest workpiece edge) on the machine. Also, consider screwing the saw down to some wood and/or clamping it to the table for stability before you begin cutting anything.
After a handful of ladies stepped up to give the miter saw a go and successfully "owned" it, it was time to wrap up the evening. Many stayed around to ask Andrew and Brian questions pertaining to their own house projects. Others hit up the snack table before heading out – by then it was the perfect time to open the wine with the power tools put away. Successful night indeed!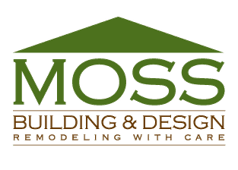 Pam Kopiak is part of Moss Building & Design's Community Relations Department. If interested in planning an Arlington HandyMOM 101 or HandyGirl 101 workshop programs, contact her at PKopiak@MossBuildingandDesign.com.