Traditional and Contemporary Kitchen Design with Farmhouse Sinks
Over many years the kitchen has evolved into the social hub of the home. We've seen several trends come and go, and many that stick around for several years. A trend that is becoming more and more popular is incorporating a Farmhouse sink or Apron front sink into your kitchen design.
What is a Farmhouse sink?
A Farmhouse sink warms up any kitchen renovation with a simple, cozy, "home" feel. This sink represents an era where the sink was used for more things than just washing the dishes. Sinks were formerly used as a place to bath children, pets or do laundry. Naturally, Farmhouse sinks are a real hit with traditional styled kitchens, but they are becoming increasing popular in modern kitchen designs. Moss recently completed a kitchen remodel in Oakton, Virginia with a beautiful Farmhouse sink.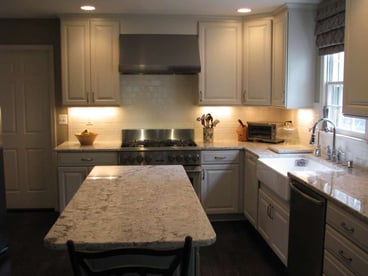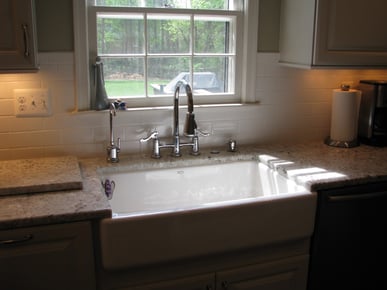 Using a Farmhouse Sink in a Modern Kitchen Design
With the growing variety of colors, shapes and sizes the Farmhouse Sink is being used not only in traditional kitchens, but contemporary ones as well. There have been several evolutional changes along the way to make this sink more modern and sleek. You can find them with different patterns and colors, versus the standard white that used to only be available. Enameled cast iron is very popular because of its strength, beauty and durability. It's guaranteed not to burn, chip or crack and comes in a variety of designs and colors to accommodate modern taste. Check out this wide variety of enameled cast iron Farmhouse sinks.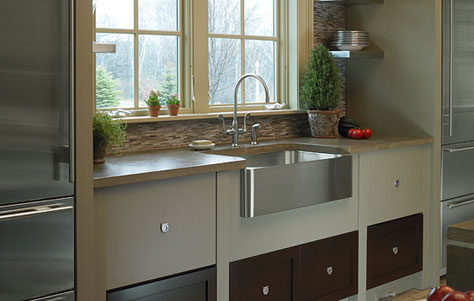 Benefits Of Installing a Farmhouse Sink
Farmhouse sinks have several benefits, including:
You get combined functionality and beauty. Not only are Farmhouse sinks the focal point of any kitchen, they are also capable of holding larger pots and pans that are typically a hassle to wash in a standard sink. The top complaint by homeowners is that their sink is too small and there is a lot of frustration when it comes time to wash things like cookie sheets and cutting boards.
Less mess. When washing your dishes you will avoid splashing water everywhere because it is built in low enough to keep water in the sink.
It's easier and more comfortable to do the dishes. Its shape makes it easier to do the dishes with less stress and strain. It allows you to get closer and reduces the amount of bending over to reach the dishes.
Moss Building & Design can help at any stage of your home improvement. If you have any questions or would like to schedule a free estimate call us at 703.961.7707 or email us at Sales@MossBuildingandDesign.com.
Photo credit:  Designermag.org