Kitchen Backsplashes That You Don't See Every Day
There are many unique things you can do for your kitchen backsplash. You don't only have to use tile when designing your kitchen backsplash.
Chalkboard Paint in my kitchen remodel?
This kitchen design from HGTV.com uses chalkboard paint as the backsplash. How cool is that? Write down your grocery list, recipe, or doodle and leave messages for your family. It's outside of the box and I like it! Would you ever consider something like this for your kitchen remodel?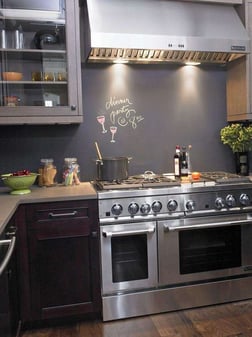 Stone Kitchen Backsplash
Not a fan of the chalkboard paint idea? How about venturing from the standard tile design and trying stone?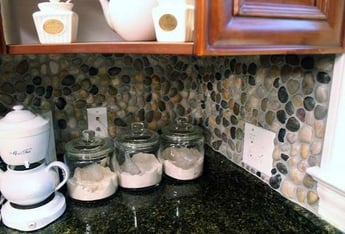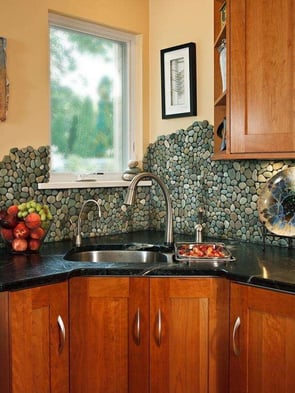 Both of these kitchen designs have added texture from the stone backsplash. The second picture creates a Mediterranean, airy feel with the chosen stones and colors. The staggered placement is unique. Would you consider something like this in your kitchen remodel? Or what about as the backsplash to your vacation home? This would look great in the kitchen of a cabin or lake house.
Go Green With Your Backsplash
And no, we don't mean the color green. We're talking about repurposed or recycled materials.
Check out this backsplash featured in the HGTV's 30 Splashy Kitchen Backsplashes article. It uses recycled plywood to make the backsplash in the kitchen.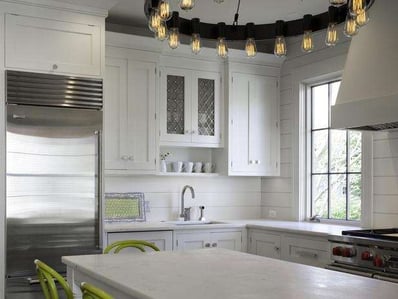 This is a great way to use repurposed materials. This kitchen design definitely has a farmhouse vibe with the white kitchen cabinets and the plywood backsplash.
Another way to stay green with your kitchen remodel is to use repurposed glass in your backsplash, like the kitchen below from HGTV.com: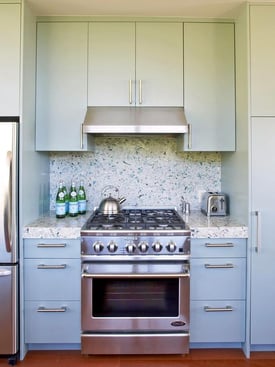 I think this backsplash turned out beautifully, and the fact that it is a design that recycles and reuses makes it that much better!
Modular Panels in Your Backsplash Kitchen Design
Still haven't found an alternative to tile? What do you think about these modular panels? As indicated in the HGTV article, this one in particular was used in a beach house, which seems like a perfect fit to me. I think it's modern, sleek look could also be used in a non-vacation home.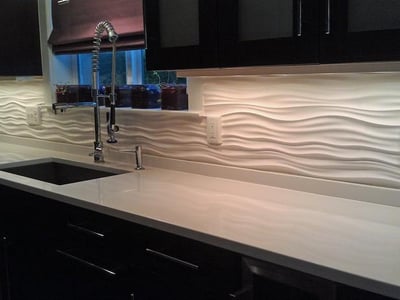 Kitchen Remodeling in Northern VA
What do you think? Would you consider any of these options? Additionally, one of my favorites from the "30 Splashy Kitchen Backsplashes" is also the etched glass (pictured below). I think this is so unique and I think the possibilities are endless with this!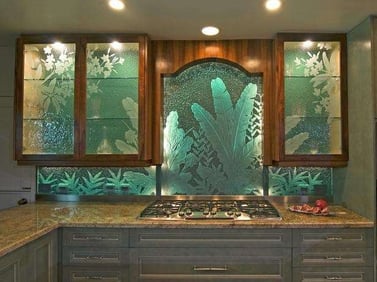 Whether you prefer tile designs or would like help getting more creative with your backsplash we are here to help you achieve the kitchen of your dreams! Our designers and remodeling experts can help you at any stage of the process. Call us at 703.961.7707 or email us at Sales@MossBuildingandDesign.com to schedule a free consultation. You can also look at our kitchen portfolio for more kitchen inspiration, as well as Pinterest and Houzz.com.
Photo Credits:
http://www.homedit.com/6-diy-rustic-backsplashes-for-your-kitchen/
http://www.hgtv.com/kitchens/30-splashy-kitchen-backsplashes/pictures/index.html