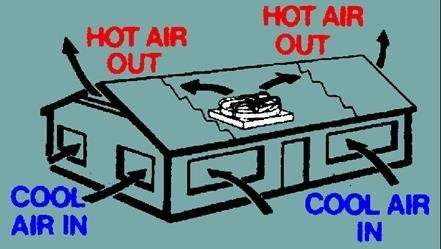 By – Jenn Zschunke (jzschunke@mossbuildinganddesign.com)
We all know the summers in Northern Virginia can be brutal – the heat and humidity combined are legendary. And while we all can certainly relate to complaints about how we are overheated, uncomfortable, and just plain miserable through most of July and August, seldom do we stop to think about the effects of massive heat waves on our houses. Sure, we consider our air conditioners and sometimes, unfortunately, the overuse of our HVAC units can cause problems for us and the community as a whole (remember the oppressive heat after the Derecho of '12 knocked out power for a lot of us?). But did you know that having a properly working, high quality, and well installed attic fan can make a huge difference in how your house keeps cool AND keeps your electricity costs down? Moss Home Services, Northern Virginia's premier handyman service, DOES know, and is available to help you and make your home more comfortable.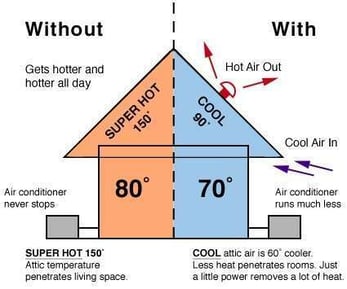 Installing an Attic Fan: Are they Necessary?
Without an attic fan, your attic's temperature can get up to 150 degrees. Attic fans turn on and off depending on a thermostat that senses the need to have the fan run. Having the attic fan run creates positive air-flow through the attic, causing the hot air to be released. The temperature difference is dramatic! By having an attic fan in your home, you reduce the temperature in the attic by 60 degrees and in upstairs rooms by 10 degrees.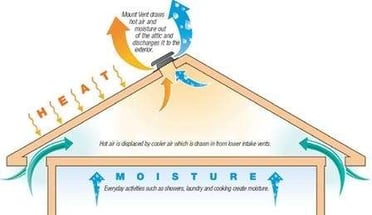 An attic fan can also reduce moisture in the attic and keep it dryer throughout the year, especially during the winter. This can help extend the life of your roof as well, as the elements do not have the chance to fester and mold.
Cost Benefits of Installing an Attic Fan
Attic fans can range in price from $200 to $800, including labor. However, the cost is worth it as the average savings in electricity costs (most especially in the summer months with the air conditioner) are up to 30%. The attic fan ends up paying for itself in a few years.
Home Improvements in Fairfax, VA
Besides providing handyman services for your Northern Virginia home, ranging from simple to large projects in the interior of the home, our handymen are experienced in the installation of attic fans. Moss is your one-stop-shop for all of your home improvement needs this summer to make sure you stay cool and keep your home running smoothly.
Contact the experts at Moss Home Services at 703-961-7707 for a free estimate and to learn more about our services.
Jenn Zschunke is a part of the Community Relations department. She plans HandyMom 101 workshop programs for Moss and coordinates philanthropic activities in her local community.
Photo Credit: http://www.samsonelectricinc.com/media/images/misc/atticfans1.gif
http://www.ultimateatticfans.com/images/content/solar-attic-fans-details.jpg