By – Jenn Zschunke (JZschunke@MossBuildingandDesign.com)
Choosing paint colors for your home can be a daunting decision. Choosing a paint color for your home exterior siding is even more overwhelming because of a larger surface area and the visibility to your neighbors and community. While some communities maintain guidelines about siding colors as a way to establish a specific look and feel for neighborhood homes, others allow more freedom of choice. Below are some tips from James Hardie, a siding company known for its quality and long-lasting durability, on how to choose a color that fits your home as well as some trends for 2015.
Color Siding Tips from James Hardie
Respect your home's architecture: Gray-blue shades on shingled Cape Cods are classic.
Opt for stylish and easy colors.
Think about our Northern Virginia weather and landscape and pick colors that complement our changing seasons: green colors are a great choice for neighborhoods with lots of old, leafy trees; gray/blue colors rarely stand out in any circumstance.
Choose a color that complements your neighbors' homes – don't fight the block.Things to consider include the setting of your neighborhood and community, the mood you want to convey, and colors that you love.
James Hardie's website makes it easy to view their siding selections through an online catalogue that will help you match colors from the main color to trim and accent colors.
One of these complete color looks is seen below with the Mountain Sage color palette (shown on the website):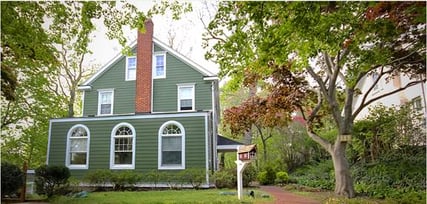 James Hardie Siding Trends for 2015
According to experts, there are a few trends in siding that will be prevalent in 2015 and beyond. These include:
Solid white home exteriors
The feeling is that more people are returning to a time of nostalgia and of an older generation. Look for some homeowners to install white picket fences as another nod to the past.
Environmentally-friendly colors
Colors that are lighter and cooler in color will become more popular. These shades can also be accented with bold colors on the trim and roof.
James Hardie fiber cement siding is available pre-finished with ColorPlus Technology® which means that all siding and trim collections come with a multi-coat, baked-on pigment that doesn't have to be finished on-site therefore eliminating volatile organic compounds (VOCs) that might be released into the environment otherwise.

To find out more about James Hardie installation on your home, contact the experts at Moss Home Services at 703-961-7707 for a free estimate and to learn more about our services.
Jenn Zschunke is a part of the Community Relations department. She plans HandyMom 101 workshop programs for Moss and coordinates philanthropic activities in her local community.
Images and Information Courtesy of James Hardie website