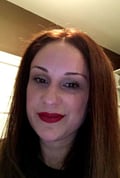 by Zaiba Hasan (ZHasan@MossBuildingandDesign.com)
Recently we have been thinking of converting our garage attic into an in-law suite or "granny annex" as they say in Britain just because it sounds super fancy and I am in a fancy mood. We are both pretty close to our families and because we don't live in the Chi-Town area (lets go Cubs—sorry folks couldn't help myself) when they do come to visit they tend to stay for a while. It goes without saying we all look forward to these visits; my kids are spoiled rotten and my hubby and I can actually go out without spending a fortune (thanks grandmas). Win/win for all involved! However, during these visits in an effort to make everyone feel comfortable we have to do a lot of room shifting, space-making, kids-transferring you know the drill. Digression complete...hence the need for creating our very own "granny annexe."
Top three things needed for a Rock Star In-Law Suite
Privacy: In mapping out what "good" looks like in creating an in-law suite privacy is probably the number one thing on both parties list. Whether it is a visiting guest, your mother-in-law, or your own mother, having a separate place for everyone to retreat to will make for a more pleasant experience. Truth be told, considering I am border-line OCD, my mom needs a break from ME at the end of the day, just keeping it real.
Separate Bathroom: If there is space adding a bathroom is a MUST when designing your suite. Long term planning should account for changes in physical health of your parents as well; lower bathtubs, guard rails, non-slip surfaces, let's throw in some soft focus lighting as well! I for one do not like to admit that my parents are getting older but sadly because I am very aware of the fact that I am getting older, these types of changes in our parents are inevitable.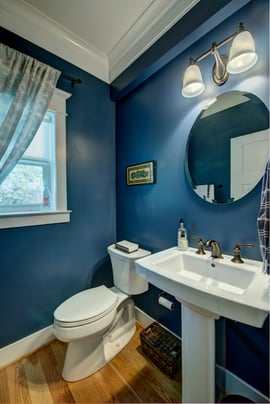 MOSS Guest Bathroom in McLean, VA
Kitchenette: Ever heard of the saying "too many cooks in the kitchen"? I am convinced it was created after an extended in-law visit. In an ideal world having a small kitchenette (microwave, small fridge, coffee maker) that is serviceable for your guests will prevent any kind of potential conflict over what's being made for breakfast.
Top three reasons to build an In-Law Suite
Memories: Providing your parents a "home within a home" is truly the best gift you can give not only to yourself but to your children. What an amazing lesson for our own children to learn about family responsibility, love and compassion!
Multi-use: When all else fails and you build your mother-in-law the suite of her dreams and then she decides to fulfill her life-long dream of moving to England to swim the English Channel, it can still be used for a multitude of other things. Guest room, teen-angst hang-out, private office retreat for me (sigh)….the possibilities are endless.
Value: According to Zillow the average rate of return for adding an additional functional bedroom/bathroom combination is roughly $140 per square foot. You almost can't afford NOT to add the space!
Bringing it back full circle, we are still trying to figure out what the best design strategy will be for our garage space but I do know that the possibilities for amazing memories will be endless.
Until next time,
Z
Give us a Call: 703.961.7707
Send us an email: Sales@MossBuildingandDesign.com
Get Inspired: Portfolio