Kitchen Remodeling in Northern VA
Kitchen remodeling offers so many ways to reflect your personality and your family's needs. I love helping solve that design puzzle for Moss' customers during their home improvement, but having been in real estate, there are a two things that I always keep in mind when I'm working with someone who's considering a remodel:
Just how "unique" do you want your space to be?
How long are you planning to live in this house?
I wouldn't be doing my job if I didn't keep your best interests and resale value in mind.
Design Examples
A. Room With a View - this design was prepared for a couple who lived in their home alone --their children are grown and have moved out. They wanted a way to incorporate the view out of their front window into their eating space. The finished product of their remodel turned out beautifully and suits their lifestyle perfectly!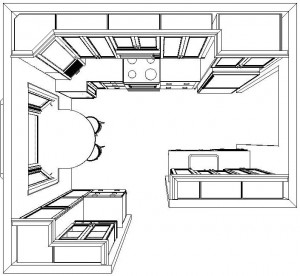 B. Dessert Island - here's a unique remodeling idea for a narrow galley kitchen – incorporating your eating space into your island.
C. Steeling the Spotlight - and here's a personal favorite of mine. This customer wanted to expand her kitchen by removing a wall between her kitchen and family room. She then created a gorgeous island that became the focal point of her room by adding cabinetry panels and stainless steel accents to the front of the island.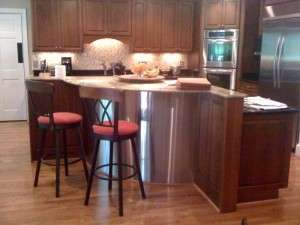 So, when you're ready to remodel your kitchen, gather pictures from magazines and let me help you incorporate them into a design that really expresses your personality while meeting your home improvement needs. That way, you'll get to enjoy the space, but you'll also add value if ever you decide to sell.