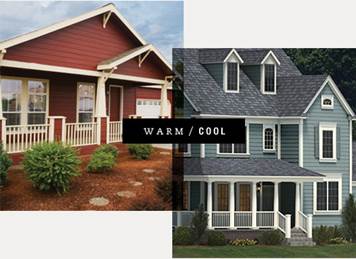 By – Jenn Zschunke (JZschunke@MossBuildingandDesign.com)
Choosing a siding color can be a daunting task. Our clients have to take into account their personal preferences, neighborhood association rules (if they exist), and other factors before making a decision about their James Hardie siding color. Fortunately, there are numerous guides for choosing a siding color at JamesHardie.com, which includes looking at a color wheel, thinking about the seasonal variances of your home, and more.
Choosing Hardie Plank Colors
As the old adage says, "opposites attract." This is very true with regards to choosing colors for your home's siding.
If you want to create the most vibrant and contrasting color scheme, you would choose complementary colors, such as red and green. If you want something close to this (but not as stark), you would choose a red and then, for example, the two greens or shades of green on either side of the chosen red's direct opposite. This is called a triad of colors – the colors complement one another, but in a calmer way. Analogous colors are those, typically in combination of three, that are right next to each other on the color wheel. This method works well when you want the least amount of contrast – creating a soothing and calm color environment.
Warm vs. Cool Colors
Another method for choosing the right color for your James Hardie siding involves the use of warm vs. cool colors (as pictured at the top). Reds, yellows and oranges make up the warm side of the spectrum, evoking excitement. When paired near their cooler counterparts, they appear larger and more prominent. Oppositely, cooler tones such as blues, purples and greens evoke calm and relaxation. While not written in stone, warmer tones are used primarily in the south while cooler ones are more typical in the north.
Choices, Choices!
In addition to choosing the main body color for your siding, it's important to consider the trim and other accenting features (including your roof). White trim draws the eye to a home's architectural features and shows contrast. Darker trim can blend well and create a fluid canvas.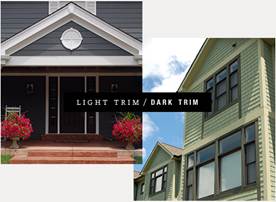 James Hardie provides a vast array of color choices for their siding and via its website, allows clients to play with their colorful ideas to make their homes truly beautiful and personal. At MOSS, we can also help you with these decisions from giving you the benefits of James Hardie to what colors would best suit your home.

Home Siding in Northern Virginia
Contact the experts at Moss Home Services to learn more about the benefits of James Hardie which include durability, a realistic wood-grain look, and a low maintenance benefit. Call us today to learn more at 703-961-7707 or to schedule a free at-home estimate!
Jenn Zschunke is a part of the Community Relations department. She plans HandyMom 101 workshop programs for Moss and coordinates philanthropic activities in her local community.
Photo Credit:
Images courtesy of James Hardie
Color Wheel (www.thisoldhouse.com)