Remodeling Your Kitchen and Bathroom
Remodeling trends vary and it's important to be informed of these trends in your home remodeling, but also to keep in mind that you are remodeling your home to fit your individual needs. We've seen many trends over the years and we're excited to share some of the trends for 2014 as well as some tips on deciding whether or not it's a right fit for your home.
Remodeling Your Kitchen
Small, closed-off kitchens with separate dining rooms are slowly becoming a thing of the past. Homeowners want a nice, big, open space that can be the social hub where everyone gathers. It's become a common occurrence in our remodels to remove the wall separating the dining room and the kitchen in order to transform the space into one open area.
This kitchen renovation in Vienna, VA was a smaller, closed off space where the kitchen was separated by a wall from the dining room.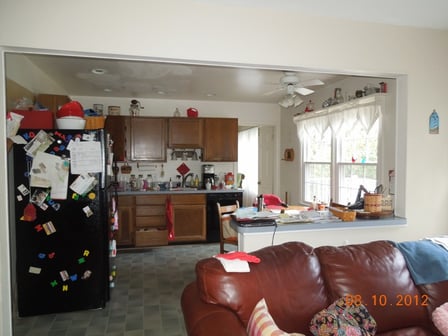 We removed a wall and reconfigured the space to give the home a bigger, more spacious kitchen that flows freely into the dining room. This kitchen remodel in Vienna, VA also follows another trend which is using hardwood flooring in the kitchen. This trend allows both the dining room and kitchen to look like one cohesive space, versus having hardwood floor in the dining room and tile in the kitchen.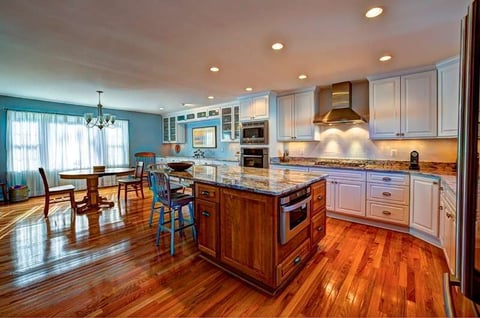 Bathroom Remodeling Trends
One common question that homeowners struggle with is whether or not to keep the tub in the master bathroom.
Traditionally, homeowners have a tub and shower in their master bathroom and both were typically located beside one another. Now, not only are homeowners choosing to separate their tub and shower in their bathroom remodels, but some are choosing to get rid of the tub all together. Chances are you have another bathroom that does have a tub and that's a good thing because should you need one you know that it is available.
One thing you can do with the extra space in your bathroom is to enlarge your shower. This master bathroom renovation in Vienna, VA, had a tub/shower combination before the remodel. The homeowners do have a bath tub in other bathrooms in their home, but their master bathroom now has a large shower which includes a shower bench, beautiful tile, a lovely vanity and extra storage space.
This extra space in your bathroom can also allow for more storage space. In this bathroom remodel in Fairfax Station, VA the homeowners did away with their tub because they didn't used it regularly. With their extra space seen below, we were able to create a marriage between style and functionality.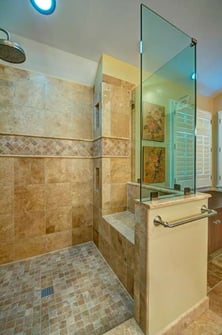 If you are someone who loves your bubbles baths and regularly use your tub then this remodeling trend will not suit your needs. But, if you are someone who never uses the shower in your master bathroom, then you should consider using that space for something else--like a bigger shower or extra storage space.
If this is something you are considering or if you have other remodeling needs, call us at 703.961.7707 or email us at Sales@MossBuildingandDesign.com and we'll be happy to set up a free estimate to talk about your home improvement needs. We not only work in kitchen and bathroom remodeling, but also specialize in additions and basement remodeling. Additionally, Moss Home Services can provide you excellent service in handyman services, plumbing, electrical, tile, roofing and siding, and structural work. Moss is your one stop shop for all your home improvement needs. Nothing is too large…or too small!