Every customer who comes to remodel their home with MOSS brings with them a different set of challenges. Every space is unique and sometimes customers have a different vision of how they want that space to function. In this blog series, we will highlight specific problems customers want to address in their home and how MOSS helped find those solutions.
The project: Chantilly, VA kitchen and mudroom renovation
Style: Transitional
Quote-able: "[Scott] had great suggestions that I incorporated into the design, and he even changed my mind about some things I thought I wanted, with fabulous results."
Open Up the Floorplan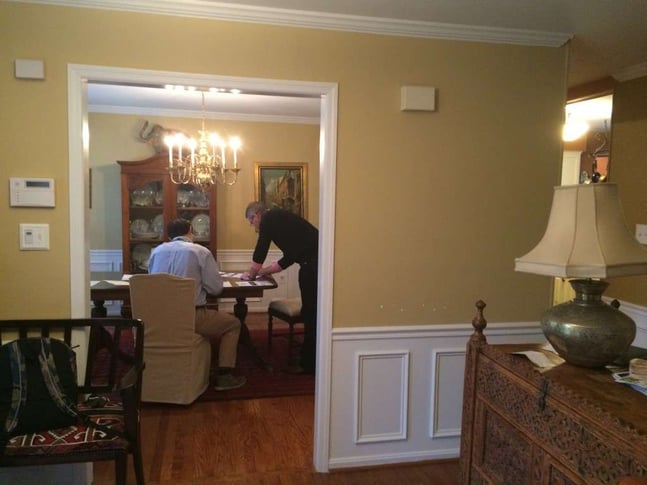 "Moss completely remodeled my kitchen and laundry/mud room. My priorities for the project were to knock down walls for a more open floor plan, to rewire the spaces because we were having some electrical problems that resulted from too many previous DIY projects, and to bring more natural light into the house."
As you can see in these 'before' photos, the existing kitchen was very closed off to the rest of the house, and sat adjacent to a small dining room. These two small, cramped spaces had a lot of potential to create a more open space.

To create a beautiful open floor plan, we addressed the customer's desire to knock down the walls and maximize the space. The first view of the kitchen remodel is from the foyer coming into the home. The customer wanted the space to flow and be multi-functional. Adding a kitchen island created a physical as well as a visual connection-- the customer wanted the island to be a gathering space where she could interact with her kids while they did homework in the afternoons. The second view is coming from an opposite angle by a large window.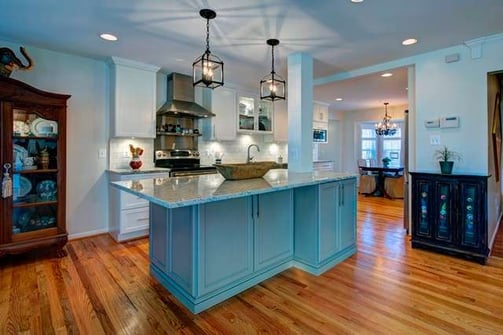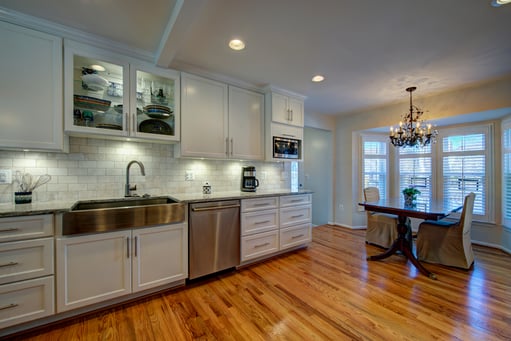 (Don't) DIY
When buying a home it is extremely important to have a home inspection before signing the contract. Shoddy electrical wiring is not uncommon in older homes and could become a hazard if left unfixed. Sometimes though, even a home inspection won't reveal below-par work. In this instance, the homeowner wanted to fix the electrical problems that resulted from previous DIY projects.
At MOSS, our standards are high, and systems are in place to ensure that all of our technicians' and subcontractors' work meets these standards. What truly makes the difference are the technicians who make it their priority to meet them. The customer for this remodel specifically mentioned one of our field technicians, Scott Thompson, for his high quality work."Scott is a true craftsman...When we changed some doors and the direction of their swing in the middle of our project (and we didn't know that we were going to do this), Scott was not satisfied with the location of the electrical switches he had earlier installed. Even though I could have lived with it, he was a perfectionist and changed the location of the switches to be on the correct side of the door."
Scott also wanted to make sure that as the customer moved through the space, the lighting was accessible. It was not only accessible, but diverse. There are many lighting options-- from recessed cans, to pendants, to task lighting under the cabinets. This attention to detail is what sets a MOSS project apart from the DIY and amateur jobs that can cause a lot of problems later on.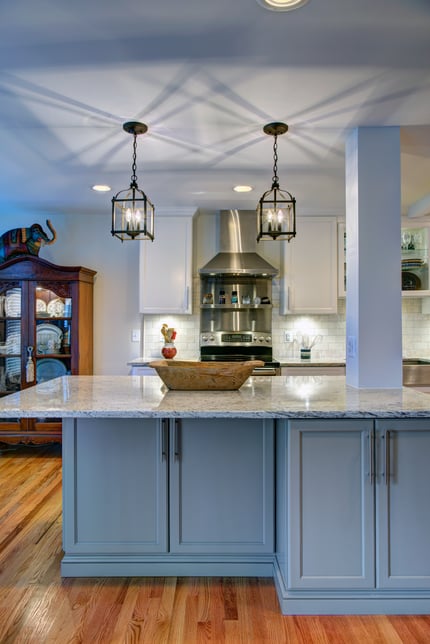 Bring on the Natural Light
This problem goes hand in hand with the cramped floor plan, but while opening up the space naturally let the light flow through the kitchen, the selections played a large part as well.
Before: the eating area was dark even with natural light coming in.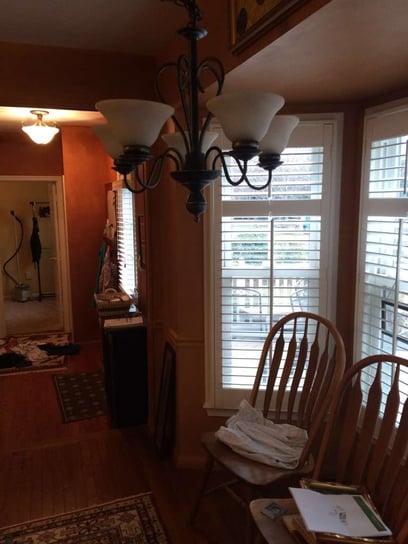 In choosing their selections, the customers knew they wanted to lighten up the space, but they had a fear of a white subway tile back splash. Finding a balanced middle ground helped soften the light coming in while keeping the room bright and airy--The cabinets were not visually heavy, the granite was light, with an earth tone grey for the kitchen island. You can find a full list of selections below.
After: The light flows through the open space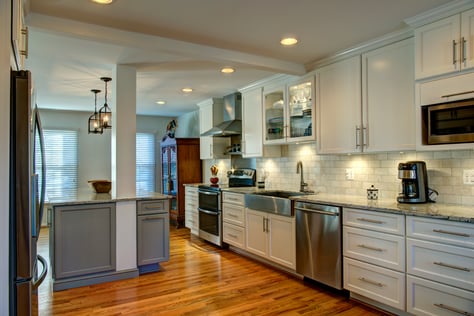 The Mudroom
The mudroom was an important space for this customer, but she gave her team a lot of leeway in designing the space. One of her few specifications of the room? A stainless steel drawer. The rest of the room was left to her MOSS team. "[Scott] had great suggestions that I incorporated into the design, and he even changed my mind about some things I thought I wanted, with fabulous results. Scott built the bench, shelving, and cabinetry in my mudroom and did not skimp on details like walnut trim and streamlined under-mount, inset lighting."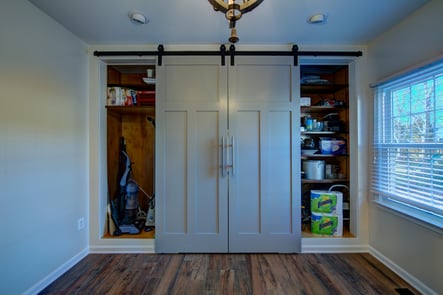 The functionality of this space both as a laundry room and an entrance into the home from the garage shaped its design. MOSS installed sliding barn doors that open up to storage space, and build a customized bench and coat rack to store jackets and backpacks for their sons.
Stand-out Selections
Island Lanterns : Kichler, Larkin style
Breakfast nook chandelier: Ballard Designs, Claire
Mudroom light fixture: Hinkley/or Fredrick Ramond, Middlefield style
Paint on walls: one part Benjamin Moore Sea Pearl and one part BM Classic Gray ( 50/50 mix) in satin sheen
Paint on cabinetry: BM White Dove, 40 sheen. (Kitchen cabinets are lacquered paint and mudroom cabinets are regular paint)
Trim: is Sherwin Williams extra white or ultra white
Paint on barn doors: BM Stone Harbor
Mudroom flooring: Florim, Pier Collection, cocoa
Granite counter tops: Thunder White from India.
Kitchen backsplash: tumbled travertine
Are you finding similar problems to these in your home? Let MOSS help you find your solutions and work with you to improve your home.
Give us a Call: 703.961.7707
Send us an email: Sales@MossBuildingandDesign.com
Get Inspired: Portfolio