Make a Statement with Your Kitchen Backsplash
Many kitchen designers will encourage you to pick one area of your kitchen and to make that your statement piece. Otherwise, things tend to get overly busy if you have different areas of your kitchen competing for the spotlight.
For me, the kitchen backsplash is a place where you can get really fun and creative. You can play it safe in other areas such as kitchen cabinets and kitchen countertops, and then get really creative with the tile and design of your kitchen backsplash.
Statement Kitchen Backsplashes
This kitchen remodel in Herndon, VA, has one of my favorite backsplashes. The tile selection really complements the other fixtures in the kitchen.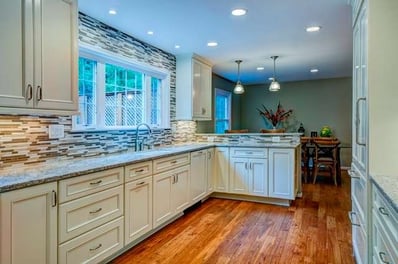 What I really love about this backsplash is how it goes up the entire wall. It definitely makes a statement and is the focal point of this kitchen remodel. This tile paired with the kitchen cabinets, the kitchen countertops and the flooring makes this kitchen remodel come together very nicely.
Here's a look at the tile on the other side of the kitchen: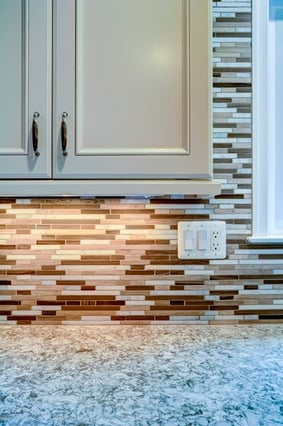 You can hardly go wrong with neutral colors but what about reds and blues? Check out this backsplash in a kitchen remodel in Arlington, VA: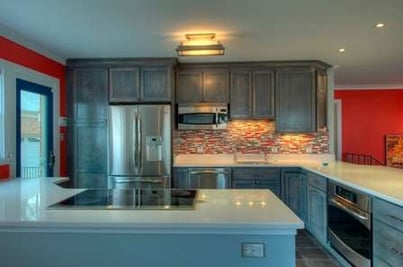 For this kitchen, it worked! The cabinets give it a rustic feel, while the risky backsplash compliments the color pallet used in the rest of the home's design. Unlike the kitchen remodel in Herndon (mentioned above) this is the only area of the kitchen that uses this tile pattern for a backsplash.
I am all for getting creative with your backsplash. Have some fun with your kitchen remodel!
Traditional Kitchen Backsplash Ideas
I can also appreciate a more traditional kitchen backsplash. This kitchen remodel in Oakton, VA combines a minimal glass tile with a classic white subway tile to create a more subtle look for this kitchen's backsplash. While not the focal point of the kitchen, it maintains a classic look through which the kitchen as a whole shines.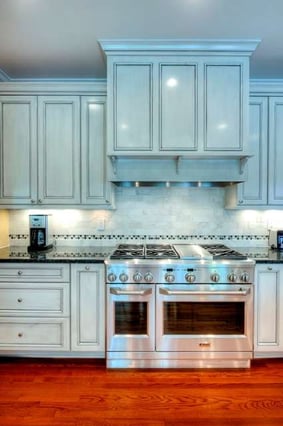 This is also a simple, white backsplash. Sometimes less can be more and in this case it really works well for this sleek kitchen design: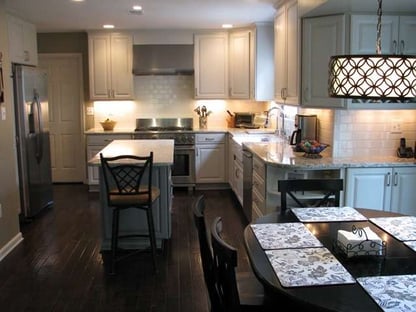 I encourage everyone to have some fun with their remodel. Find a focal point in your kitchen and really dress it up. Make it a space that you will love!
If you need remodeling inspiration, call the professionals at Moss Building & Design and we'll be happy to guide you along the remodeling process. Email us at Sales@MossBuildingandDesign.com or call us at 703.961.7707 to get your remodeling process started.