By Pam Kopiak (PKopiak@MossBuildingandDesign.com)
So you've chosen your kitchen cabinets— check. The countertop is in place— check. Now you need to figure out which kitchen backsplash you want to use as the final piece of the puzzle in your kitchen remodel. There are so many options out there now for kitchen backsplashes, how does one go about deciding which materials to use in their backsplash design? Here are a few things to consider.
Contrasting Textures for your Kitchen Backsplash
As Stacey and Clinton used to say on TLC's What Not To Wear, it's not all about patterns and colors. You have to play with textures as well. If you have a highly glossy or polished counter material such as granite, consider using something like a natural stone tile or ceramic tile with a matte finish. This kitchen remodel in Great Falls shows how well a natural stone backsplash pairs with a glossy countertop.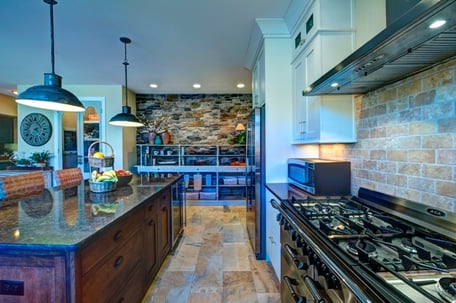 And this remodel in Leesburg, VA shows how the glass subway tiles provide a nice contrast to the relative low shine of their kitchen countertops.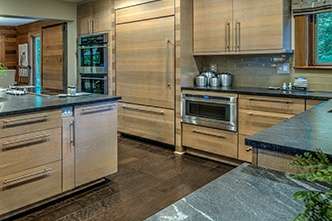 Reverse the Color Pattern
Hey, if the color in the countertop works for you then why not consider using the same colors in the backsplash? If, for example, you have a granite or marble countertop that is primarily a brown color with veins of cream or white throughout, then you could consider doing a kitchen backsplash that is primarily a lighter color with darker tones throughout the design. The backsplash in this kitchen remodel in Herndon, VA is a great example of this pairing.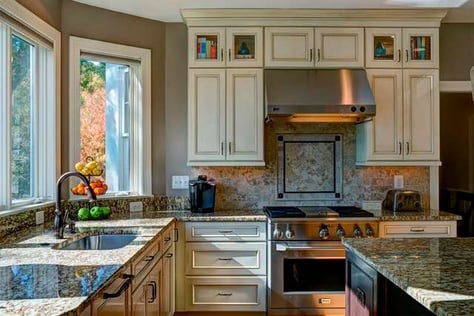 Don't Forget the Lights
When thinking about materials for your backsplash design, remember to consider the lighting in the kitchen. I firmly believe good lighting is not just for applying makeup. I, for one, LOVE uplighting on the outside of a house. I just think it adds so much character. I think the same can be said for kitchen lighting— be it pendant lighting, recessed lighting or my favorite, the under-the-cabinet lighting. When thinking of what material to use, think of how the lighting will hit the kitchen backsplash and what sort of effect you would like to see. This Arlington kitchen remodel shows how this can all come together for a wonderful effect.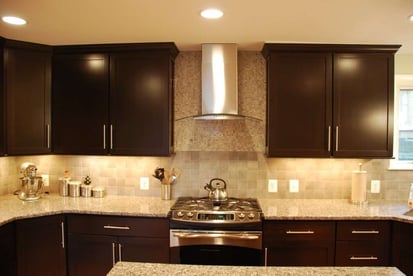 Kitchen Contractors in Northern Virginia
There are many different texture, color and lighting combinations to consider. At MOSS, we'll help you design your kitchen and provide additional guidance along the way. The backsplash can be a beautiful focal point of your kitchen, so have some fun with it!
If you're interested in a kitchen remodel, consider MOSS, Northern Virginia's top kitchen contractor.