At Moss, we want to keep you on the cusp of what is new in design. An important room to be aware of in your home remodeling is the kitchen. When looking for a new home or considering an addition/remodel, the kitchen is usually the number one determining factor, so it's important to be aware of the home remodeling trends.
In your kitchen remodel, your kitchen should be defined by its design and usability.
In terms of design, your kitchen should create a kind of cohesiveness with the rest of your home. If you like to stay with current trends, it is important to determine the needs of your kitchen. If you are looking to sell your home, going too modern or having too much of a design can deter potential buyers. However, you should always remodel your home for YOU, especially if you have plans of staying there for a few more years.
If you want your dream kitchen, then by all means, go with your aesthetic. But even if you don't want an extreme design, some of the new trends can be minimized in a way that fits your kitchen.
What you ultimately want out of your kitchen, however, is usability. Your layout should make sense in terms of where you would like to store things and where it makes most sense to store them.
Trend in Northern VA Kitchens
One of the biggest new trends in kitchen remodeling has been a rise in paneling appliances and hiding them rather than showing them off.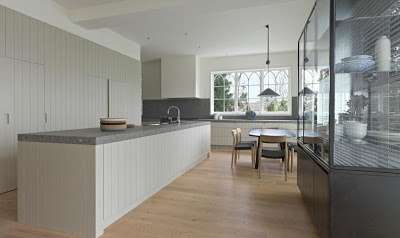 A former trend was to have your appliances out "loud and proud"; the more stainless steel, the better. But with the paneled look, your kitchen is able to take on a different personality. The first thing you see is not the appliances interspersed between cabinetry, you see the cabinetry. This paneled look also can create a minimalist tone, which allows for more cohesiveness with the rest of your home.
Minimalist Trend in Kitchen Remodels
One way that you can incorporate the paneled minimalism in your home is through storage. Even if you don't like the all-paneled look, bring some minimalism into your kitchen through your non-perishable vegetable and fruit storage.
Typically, these fruits and veggies are housed in a bowl on your counters or in tiered baskets. But through this minialmist idea, these items can be housed in cabinets in a way that allows for organization but also a look in your kitchen that is clutter-free.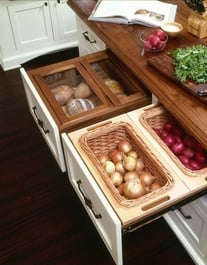 At Moss Building & Design, we would love to help bring your ideas and new kitchen trends to life in your kitchen remodel. Check back often to our blog to find out the new trends and to see the projects that Moss is working on.
Moss Building and Design
We can help you at any stage of your home remodeling project whether that includes selections of cabinetry or creating a design that works for your kitchen dreams. Our award-winning customer service will provide a beautiful kitchen, but also a seamless process. We also specialize in additions, bathroom remodeling,basement remodeling and handyman services. Call us at 703.961.7707 or email us at sales@mossbuildinganddesign.com to schedule a free estimate.
Photo Credit:
http://designtalk.blogspot.com/2013/03/t-residence-by-shareen-joel-design.html
http://img.izifunny.com/pics/2013/20130314/640/life-hacks-in-pictures.-part-4-26-pics_7.jpg
ehow.com