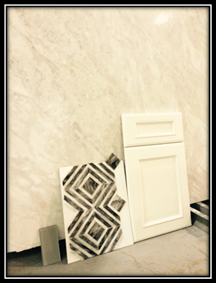 Check out previous kitchen blog installments here

By – Jeannine Miller (JMiller@MossBuildingandDesign.com)
I'm so excited to be making the last of my selections. These selections may be last, but they certainly aren't least – especially the countertop and tile. For years I've been looking at different countertops, but had yet to settle on "the one." Phil and I both love marble, but it's just not practical for our family. For a while, I was really interested in this newer product called thin porcelain tile (TPT), which looks like marble, but Phil couldn't get behind it. He insisted he wanted a thick slab of something from a quarry. (How very caveman of him.) Luckily, MOSS owner, Jason Hampel introduced us to quartzite and it was a done deal – it's perfect for us! Quartzite has the durability of granite, veining resembling marble and our slabs of White Princess were mined in Brazil.
With my cabinet door and quartzite sample in hand, MOSS' kitchen designer, Erin Hoopes, and I headed over to Mosaic Tile to meet with Cameron Thompson. Cameron walked us around their gorgeous showroom and pulled many different styles and colors and had me start pointing out what I liked and disliked about each. Before I knew it, we had chosen the diamond tile design pictured above for over my range and the glass subway tile for the rest of my backsplash. With everything else in my kitchen on the safe side, I think the tile will give it the pizzazz it needs.
Let's light this thing up! A chief complaint about my old kitchen is how dark it was. That will no longer be a problem. MOSS electrician, Greg Ivie spent quite a bit of time educating me on lighting and I am certain the undercabinet lighting plus ten 3" recessed LED gimbals will do the trick. Those will take care of the utility, but I also wanted something pretty over the island and I think two of these pendants will be perfect. (Too bad a certain someone I'm married to doesn't share my great taste.)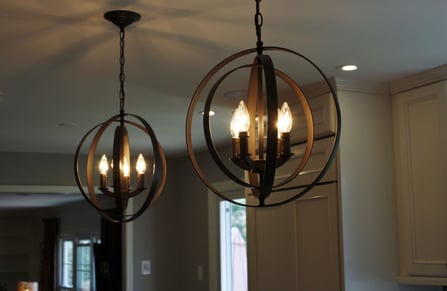 Tune in for my next blog on demolition day!
And now a word from my sponsor: If you're in the market for some home remodeling, call the experts at Moss Building & Design. We will consult with you and help you explore the many possibilities for updating your home. Call 703-961-7707 to schedule an appointment for a free estimate.
In addition to blogging about all things home and family-related, Jeannine Miller manages Moss Building & Design's Community Relations Department, which includes the popular HandyMOM 101 and HandyGirl 101 workshop programs.