Kitchen Ideas for your Home
One of the best parts of a renovation is considering all the "add-ons" that come into play. Especially in a kitchen remodel, there are considerations for the appliances, décor, and overall cohesive design with the rest of your home. It's hard not to skip ahead to focus on these elements because they are usually really fun to choose. Determining the layout of your space is necessary before any decisions regarding appliances and decor can be made.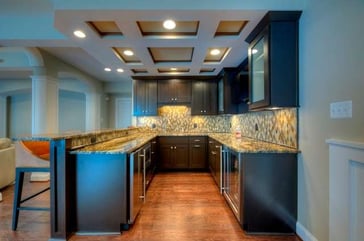 Choosing the best appliances for your Kitchen Part 1
Once your layout had been decided, you can focus on the appliances and the fun "add-ons" for your renovation. Some of the locations of your appliances may only have certain areas they can go based on your layout unless there were changes made in the construction phase of your renovation.
Once the possible locations are decided, you should consider what you need from your appliances. Some questions to consider:
Do you like to entertain?
How large is your family?
How often do you cook?
With these questions in mind, we will start with ideas for two major appliances: refrigerators and cooktops/ovens.
Refrigerators for your Kitchen Layout
This appliance may just be the most important in your whole kitchen. It is the space where your kids run to get juice packs and where you keep that casserole for Thanksgiving until it's time for dinner.
This appliance can especially affect other choices in your kitchen because of the width and depth of the unit. Your choice in refrigerator can even influence your kitchen island depending on your layout. One way to avoid this problem is by choosing a counter depth unit which means that the refrigerator is full size but it is designed to fit flush with a standard countertop. Keep in mind that these units can be more expensive than normal freestanding units.
When thinking about this appliance, consider the size of your family and your lifestyle. While a fridge of 21-25 cubic feet may work for a family of four, a larger unit may be needed for more people. You decision can also be helped by thinking about how you store items in your fridge, whether you often have a large number of leftovers , and how often you eat out versus eat at home.
*Moss Tip: When deciding on how big your fridge should be you also need to keep in mind that depending on the model of the unit, it is ideal to have at least 2 inches minimum on each side for the door to swing open.*
Next you want to think about additional features of the unit:
Do you have a preference with how much freezer space or if the freezer is on the top or bottom?
Would you prefer to have specialized space for things like juice boxes to be more easily accessible?
Would you prefer to have an external water and ice dispenser?
The external water and ice dispenser will make a difference if you were interested in a paneled look in your kitchen since extended use could damage the panel.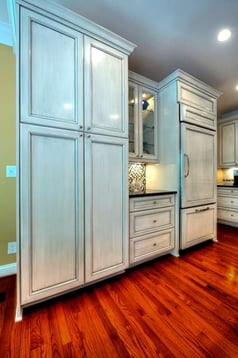 As well, there is a different amount of space in traditional fridges that feature the freezer on top versus a fridge with a freezer on the bottom or the more narrow side-by-side unit.
One new trend in kitchens that could help in any design is an additional small fridge unit or freezer drawer on the kitchen island for juice pouches and additional drinks or more room if you like to entertain.
Check back in for more options for kitchen appliances in the coming weeks for your kitchen remodel.
Kitchen Design With Top Northern Virginia Remodeler
Kitchen remodeling is a large undertaking not only because of the scale, but because of the room's importance to your home and family. With Moss Building & Design, you can discuss your ideas and create a design that will meet not only your needs , also your family lifestyle. Check out our portfolio for ideas for your home and contact Moss for a free in-home consultation at 703.961.7707.