Northern VA Contractor Gives Kitchen Design Tips

By- Madeline Pillow (MPillow@MossBuildingandDesign.com)
The kitchen is a room in your home that needs to help you run the rest of your home like a well-oiled machine. Often for homeowners this is not the case. Below are some ideas to make your kitchen more usable and accessible in 2015.
Kitchen Storage Ideas
Cookbook Storage
If you have some classic cookbooks that need a better place to be stored look for unused spaces in your kitchen. An end cabinet or somewhere on your island are perfect ideas.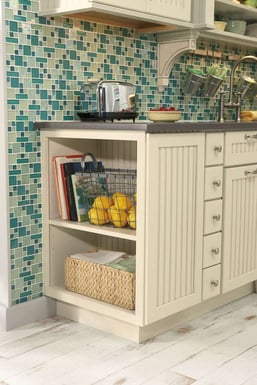 Measure the cabinet or space you are looking to use to ensure it will suit your needs. Typically, any cabinet can be used for this purpose by removing a cabinet door.
In-counter Knife Storage (Under Cabinet Knife Storage)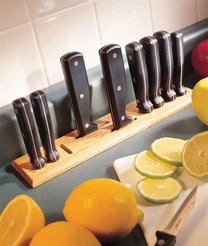 This is a great idea if you want your kitchen knives to be in an organized place without a large knife block taking up more room.
You can also consider an alternative which would be under cabinet knife storage. This frees up counter space as well as drawer space.

Baking Ingredients Drawer
Finally, for those bakers out there—why not keep your baking ingredients close at hand? Create drawer space that will house anything from your flour to brown sugar in a convenient locale. With your tools close, those tasty treats will be even sweeter to make.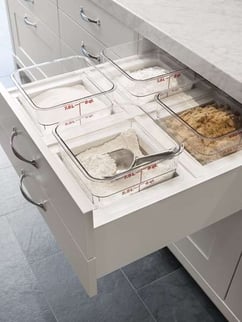 Remember that your kitchen should function as an extension of your own interest and talents and the space will be full of utility.
Best Kitchen Remodeler in Fairfax, VA
Collaborate on your kitchen remodel with Moss Building & Design! Our experts take into account your needs, budget, and your home when discussing your design ideas in order to deliver a kitchen that works best for your family for years to come.
You can learn more about the Moss process through our project management tool, MOSS Online. See how your project would be managed with us! For a free consultation, call us at 703.961.7707.
Photo Credit:
http://www.woodgate-cabinetry.com/wp-content/gallery/kitchen-storage/open-end-cabinet-shelf.jpg
http://www.americanwoodworker.com/blogs/projects/archive/2011/11/08/countertop-knife-rack.aspx
http://www.core77.com/blog/consumer_product/designing_for_knife_storage_part_2_beyond_knife_blocks_and_wall_racks_26446.asp
http://maisonetdemeure.com/decoration/photos-la-cuisine-de-ricardo?page=3