By Pam Kopiak (PKopiak@MossBuildingandDesign.com)
Kitchen Remodeling in Northern Virginia
When you hear the word "island," you probably picture yourself on a sandy beach somewhere with a fruity drink in hand. Not me! When I hear "island" I immediately think of kitchens and how wonderful kitchen islands can be. They can add such versatility to a space! Between function and aesthetics there's something for everyone.
Small Kitchen Islands
Think of this as more of a private island. If you don't have a huge kitchen, that's OK! Kitchen islands can be as big or as small as you'd like nowadays. This kitchen remodel in Fairfax, VA has a gorgeous kitchen island that suites the space well. This fairly narrow island has enough space for storage while functioning as a breakfast nook.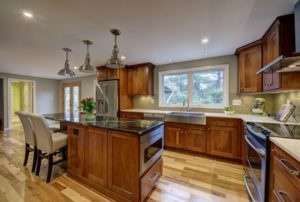 Big Kitchen Islands
If you have the space, take advantage of it! Go all out with a large kitchen island. I'm talking Gilligan's Island, where multiple people live. This could basically double the storage space in your kitchen and potentially cut out separate eating areas all together. This kitchen remodel in Fairfax, VA showcases a very large kitchen island with enough space for multiple people to sit and eat together. There's also shelving on each end ideal for those old cookbooks, which is an added bonus.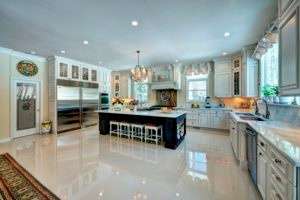 Sleek and Modern Kitchen Design
And sometimes you just want to sit on a sandy beach with a dirty martini in hand. Yes, a kitchen island can be for functional but it can be also just as much be about the aesthetics of the room. This McLean, VA kitchen remodel has a very contemporary style (see my last blog for more on that) that enhances the design of the kitchen. The stainless steel counter-top and peninsula, combined with a certain modern bar stool really adds a bit of pizzazz to the space!
The Best Kitchen Remodelers in Northern Virginia
If you are thinking of a kitchen remodel and live in the Northern Virginia area, we would love to discuss your remodeling plans with you! Did you know that we go above and beyond with our remodeling process? We are equipped to handle all of your home improvement needs. We are your one stop shop for home repairs in the Northern Virginia area! If you want to know more, check out this blog post on everything MOSS can do for you.
Kitchen Remodeling Arlington, VA
As an Arlingtonian myself, I am proud to say that Moss Building & Design was voted Best Remodeler in Arlington Magazine's Best of Arlington 2016! Whenever my friends are looking to remodel or in need of a handyman, electrician, or plumber I always refer them to MOSS. No matter how big or small, Moss Home Services is here to help. If you have any general questions call MOSS at 703.961.7707 or email Sales@MossBuildingandDesign.com.