Check out previous blog installments here
By – Jeannine Miller (JMiller@MossBuildingandDesign.com)
And so it begins. I have never been so excited to see my kitchen look so bad. The kids, however, were a little shell-shocked when they came home from school on demo day.
Now that the kitchen has been gutted, the rebuilding is underway. By adding a separate HVAC system to service the second floor, we are able to remove the unsightly bulkhead and soffits that house a ton of ductwork which is no longer needed. The one thing in that bulkhead we still need is the load-bearing beam (kind of important if we don't want our bedrooms to end up in the kitchen). A temporary wall was created for support while the original beam was replaced with a flush-mounted beam (seen below).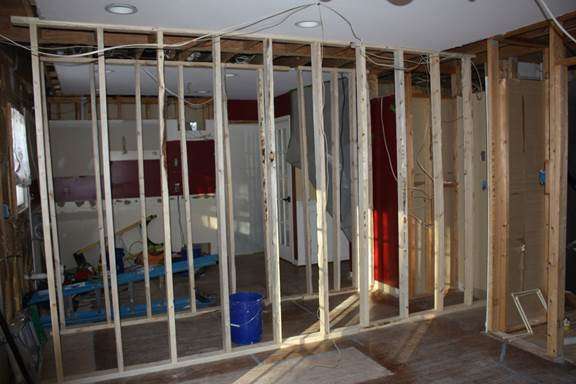 Inadequate lighting has always been an issue in my kitchen. Now we have a gorgeous new window to double our natural light.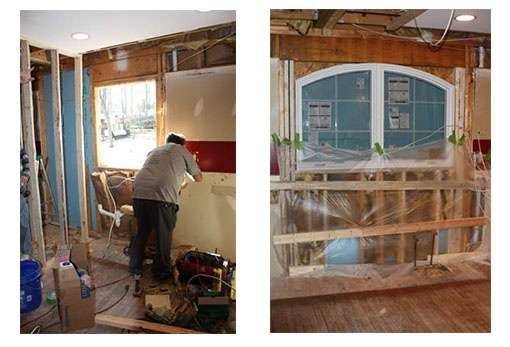 I certainly wasn't going to leave that rotting old door next to my fancy new window, so we replaced that too.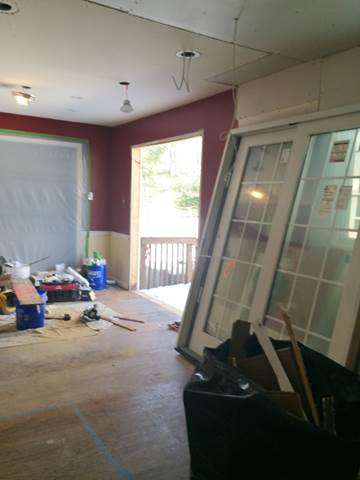 My washer and dryer were stuffed in the little passageway from the garage to the kitchen. By relocating the pantry, we freed up space to double the depth of that area so I don't have to be knocked in the rump every time someone opens the door from the garage. And check out one of my favorite new things…the laundry chute!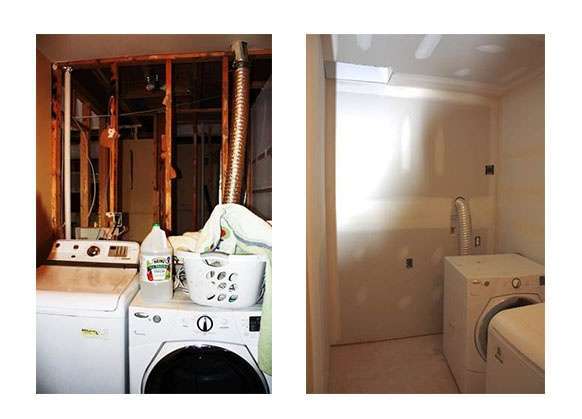 Of course, no remodel is complete without having your friends over on a Friday night to give their design opinions.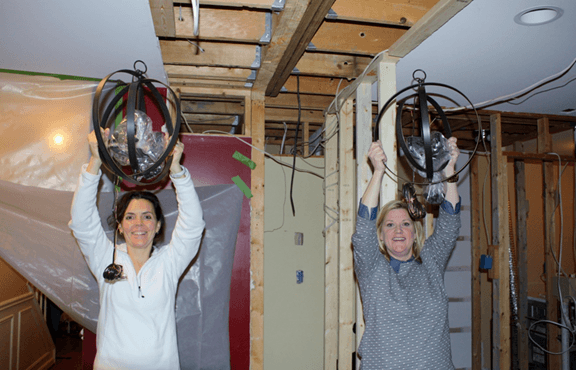 With all the new electrical and plumbing in place, the drywall is up and it's time to start the pretty stuff. Looking better already, don't you think?
Tune in for my next blog on cabinet installation!
And now a word from my sponsor: If you're in the market for some home remodeling, call the experts at Moss Building & Design. We will consult with you and help you explore the many possibilities for updating your home. Call 703-961-7707 to schedule an appointment for a free estimate.
In addition to blogging about all things home and family-related, Jeannine Miller manages Moss Building & Design's Community Relations Department, which includes the popular HandyMOM 101 and HandyGirl 101 workshop programs.