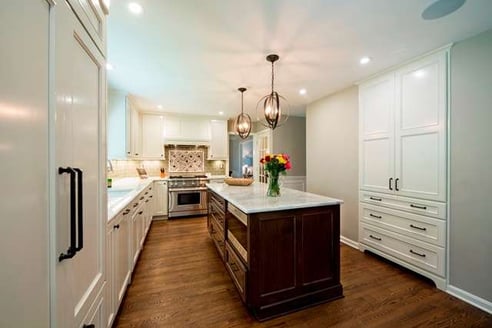 Check out previous blog installments here

By – Jeannine Miller (JMiller@MossBuildingandDesign.com)
I'm so happy to finally post the beautiful pictures taken of our remodeled kitchen. We are beyond thrilled with the result and enjoying the new space very much. When we started the remodeling process, I was focused on which kitchen cabinets, kitchen countertops and appliances I wanted. MOSS pushed us to look beyond those tangible items and specifically identify what we didn't like about the feel of our old kitchen. I am certain that this process of naming and addressing the below concerns is what took our kitchen from good to great.
Issue: The bulkhead and soffits made us feel closed in.
MOSS Solution: Re-rout the HVAC system so the bulkhead and soffits could be removed.

Issue: The kitchen always felt dark, no matter how many kitchen lights were on.
MOSS Solution: Maximize natural light in the kitchen with a larger custom window. Use many small LED lights in zones and on dimmers to control light in all areas.

Issue: The view of the kitchen from the entry foyer was unattractive.
MOSS Solution: Move the dishwasher, sink and kitchen island to the left so the view is less cluttered.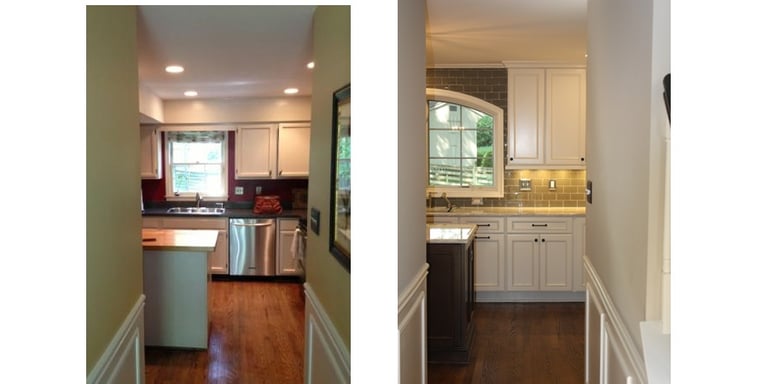 Issue: There was no flow between the kitchen and eating area.
MOSS Solution: Remove the peninsula and use extra space for a larger kitchen island.
Issue: Our washer and dryer were crammed in the entryway from the garage to the kitchen so there was hardly room to walk much less a place for kids' things.
MOSS Solution: Take the space from an underutilized walk-in pantry and create a laundry room. Turn the old HVAC ductwork space into a laundry chute – BONUS!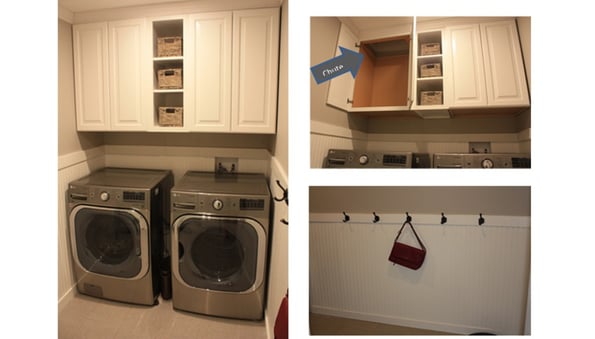 And that, folks, is a wrap. Thanks for following my kitchen remodel via this blog -- I hope you've learned a bit about the remodeling process along the way. For more pictures of my kitchen remodel or others MOSS has done, please check out our kitchen portfolio.
And now a word from my sponsor: If you're in the market for some home remodeling, call the experts at Moss Building & Design. We will consult with you and help you explore the many possibilities for updating your home. Call 703-961-7707 to schedule an appointment for a free estimate.
In addition to blogging about all things home and family-related, Jeannine Miller is a member of Moss Building & Design's Community Relations team.