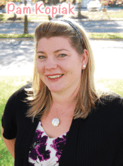 By Pam Kopiak (PKopiak@MossBuildingandDesign.com)
Contemporary Kitchen Designs
Nothing says "the here and now," like stainless steel. When I FINALLY upgraded to a stainless steel fridge I felt like I had really made it (boy was I wrong). Nowadays, kitchens are filled with stainless steel, from fridges, microwaves, dishwashers and even hoods for the range. But there are other ways you can go contemporary with your kitchen remodel.
Kitchen Remodeling Ideas: Seeing Things In Black And White
Many kitchen remodels are filled with wood and different shades of granite or marble. This kitchen remodel in Arlington, VA breaks the mold. With black counter-tops and white kitchen cabinets, this kitchen is striking for it's simplicity. Also notice the stainless steel throughout!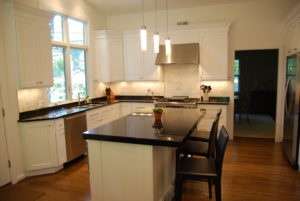 Mixing Textures for a Contemporary Kitchen Design
Nowadays, you don't have to feel pigeon holed into using the same type of wood throughout your Northern Virginia renovation. Various shades and types of wood can add an interesting dimension to your room. Take the MOSS kitchen remodel in Leesburg, VA, pictured below. From the stainless steel pendant lights to the differing shades of wood on the floors and wall to the unique kitchen cabinets, it all blends together nicely.
Light Up Your Kitchen Remodel
I have said before, I think lighting is one of the best tools a person can use to really add something special to a renovation. A great way to do that to the exterior of your home? Uplighting. Add some lighting to your kitchen? Under cabinet/above cabinet lighting. The kitchen remodel in Arlington, VA, below shows how you can achieve a very modern effect by using this lighting technique. The above cabinet lighting at the back of the kitchen changes colors and really influences the mood of the space as the darkness of night moves in. This combined with the kitchen lighting above the bar stools and the sleek lines of the fan and pendant lights really highlight this contemporary kitchen.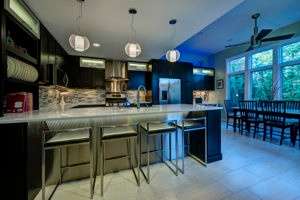 Best Kitchen Remodelers in Northern Virginia
As an Arlingtonian myself, I'm happy to say Moss Building & Design was voted the BEST Remodeler in Arlington Magazine.
Have you been dreaming of a contemporary kitchen? MOSS can help you achieve a kitchen remodel that fits your individual needs and exceeds your design expectations.
A MOSS Professional would love to speak with you about your project. Call us at 703.961.7707 or email Sales@MossBuildingandDesign.com if you have general questions or if you would like to discuss your remodeling plans.