In your kitchen, there are certain features that are seen as traditional or indispensable. Two of these features include the bar area and the kitchen island. In recent years, the way that these features function in a kitchen have changed and also trends have redefined the possibilities of each. Let's look at how both the island and the bar have changed and how you can incorporate new trends and function into these areas.
Kitchen Remodeling in Northern VA: Kitchen Bars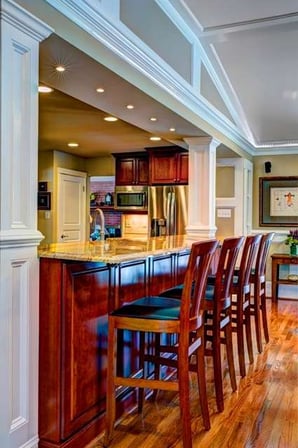 Kitchen bars are a great space in a kitchen for gathering, breakfast eating, and homework. Traditionally, a bar should be 42" to the top of the countertop which creates the appropriate height for stools. Actual restaurant bars are higher and can vary in height.
Usually in a smaller kitchen, a bar isn't a possibility but with every kitchen, you need to assess your space as well as your family's needs to gauge what you will use in your kitchen.
In terms of seating, when deciding between stools and chairs, it is a matter of style and function. This is where assessing your needs will be really important. Choices vary between arms and no arms, a swiveling function, accessibility, and the number of seats.
Right now in bars, the traditional look is still the current trend as the function of bars is its primary importance. In the picture above, this kitchen bar in Oak Hill, VA reflects this traditional style that provides great functionality. A bar such as this can provide additional storage, a buffet when entertaining, and a conversation piece.
A current trend in bars and in kitchen islands is the incorporation of a bar feature into the kitchen island. A raised bar at an island hides the main work surface in that it can hide items that are usually on the countertop. As well they give additional usability to a kitchen island which we will discuss next.
Kitchen Islands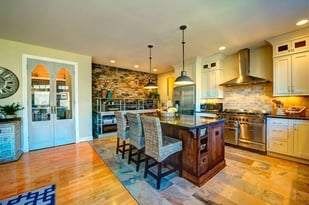 Kitchen islands provide a great resource in your kitchen because they are very versatile in their functions. If used correctly, an island will provide multiple benefits in a small amount of space. Specifically, it allows for more prep space, storage, and affords room for seating and a kitchen gathering place as seen in the island to the left in this kitchen remodel in Great Falls, VA.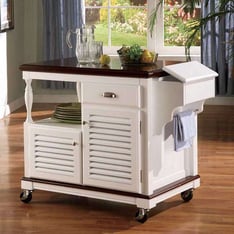 A new trend in kitchens has been a change towards movable kitchen islands. While this is an appealing option for smaller spaces and different kinds of floors, this option has its challenges because of the lack of electricity it affords. It is a benefit, however, in the fact that it is creates move versatile and usable space in a small kitchen.
If you do have a smaller kitchen but are interested in the benefits of an island, we recommend alternatives which include a rolling cart, peninsula, and optimizing cabinetry with the use of pull-out options.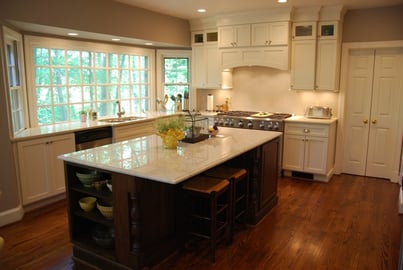 Another trend choice in islands comes in the choice of stain. Right now, darker finishes and stains in islands are very popular because they hold up against heavier traffic and still maintain a great look. The homeowners of this kitchen remodel in Reston, VA, chose a darker wood that gives the island a distinct contrast with the countertop and other cabinets, but also allows the island to withstand many activities in the kitchen.
If this is something you are considering or if you have other remodeling needs, call us at 703.961.7707 or email us at Sales@MossBuildingandDesign.com and we'll be happy to set up a free estimate to talk about your home improvement needs. We not only work in kitchen and bathroom remodeling, but also specialize in additions and basement remodeling. Additionally, Moss Home Services can provide you excellent service in handyman services, plumbing, electrical, tile, roofing and siding, and structural work. Moss is your one stop shop for all your home improvement needs. Nothing is too large…or too small!
Movable Kitchen Island Photo Credit: http://gozetta.com/wp-content/uploads/2013/05/Movable-Kitchen-Islands-With-Drawer.jpg