At least it does mine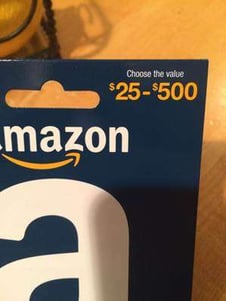 By – Jeannine Miller (JMiller@MossBuildingandDesign.com)
If you are one of those people whose eyes glaze over when other people talk about the funny things kids say, go ahead and move along to your next BuzzFeed article cuz this will bore you. For the rest of you with a heart (I KID, I KID), stick with me.
I don't know if it's their innocence that makes them so literal and candid but, dang, kids make me laugh without even trying. Surely you've heard about the "Apparently Kid." If not, you have to watch this video clip. He is hilarious and doesn't even know it. Over the long school break, I feel like I heard a bunch of great kid-isms, a few of which I'd like to share.
My 10 year old received a gift card (see above photo). He read "Choose the value" and said "Duh! Obviously I choose $500."
Someone in my neighborhood hasn't been picking up after their dog. It happened again and I yelled "Who keeps leaving poop in our yard?" My daughter responds "Not me."
My Fourth Grader is studying the Civil War and it's really getting to him. After some studying he says "If the Civil War was going on right now, even though I like to travel, I wouldn't fight in it."
A friend's kids were making fun of her so she yelled at them and said, "Don't act like I'm old and stupid!" Her daughter replied "We won't if you won't."
And, finally, an oldie but a goodie that warrants repeating:
The kids were young and we were all in a public ladies' bathroom. My son (6ish) was waiting outside the stall for me inspecting the feminine product vending machines, and says, full of indignation, "25 cents for a napkin? That's just ridiculous."
And now a word from my sponsor:
If you're in the market for some home remodeling, call the experts at Moss Building & Design. We will consult with you and help you explore the many possibilities for your Northern Virginia renovation. Call 703-961-7707 to schedule an appointment for a free estimate.
In addition to blogging about all things home and family-related, Jeannine Miller manages Moss Building & Design's Community Relations Department, which includes the popular HandyMOM 101 and HandyGirl 101 workshop programs.