Top Northern VA Remodeling Company, Moss Building & Design, Offers Industry Best Project Management and Communication Tool
With the right remodeling company, remodeling your home doesn't have to be a stressful thing. Unfortunately the remodeling industry is plagued with preconceived ideas about remodeling companies and the remodeling process. However if you are working with the right remodeler you will see that the remodeling process can be smooth and before you know it all those preconceived ideas will be gone. At MOSS we know how important it is to make the remodeling process a smooth one and what it takes to make that happen.
Staying Up-To-Date On the Status of Your Remodel
Choosing a remodeler that best suits your needs is half the process. Now what happens? We understand the importance of communication throughout your entire remodel. You'll want to be able to track the progress, be aware of any changes, and the status of your budget. We want to make it easy for you to do these things. Wouldn't it be nice if there was one place you could see your budget, selections, etc AND track the progress of your remodel with photos uploaded by your project manger? Now there is.
MOSS Online: Industry Project Management & Communication
MOSS Online is the central area for all communication related to the project. Our clients have full access to viewing their schedule, selections, budget and much more with MOSS Online. If there is anything you want to know about your project you can feel confident that it will be available to you through MOSS Online. MOSS Online is intended to keep our customers and project teams on the same page throughout the remodel. It's very easy to use and you will be impressed with all that it offers. MOSS Online keeps our customers and project mangers connected at all times. It's the communication hub of the whole project.
When you log into your MOSS Online account it will look like the image below: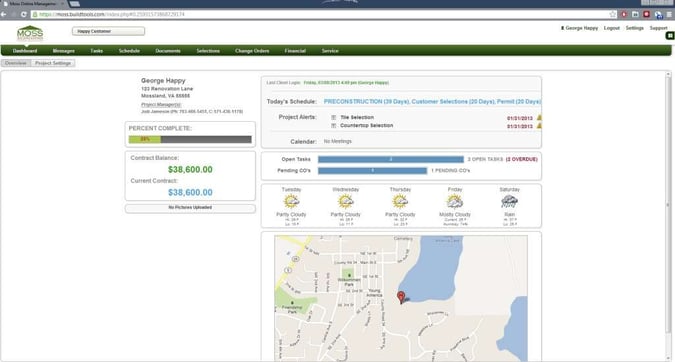 We get as far into the details as to provide you will the weather forecast. Hey, we need to know what to expect to make decisions regarding your remodel- rain or shine! You can see that it shares how far along we are with your project with the percent complete bar on the left, as well as the balance of your project: what you owe and what the entire contract cost.
The image below shows you a very detailed schedule that you will have access to through MOSS Online: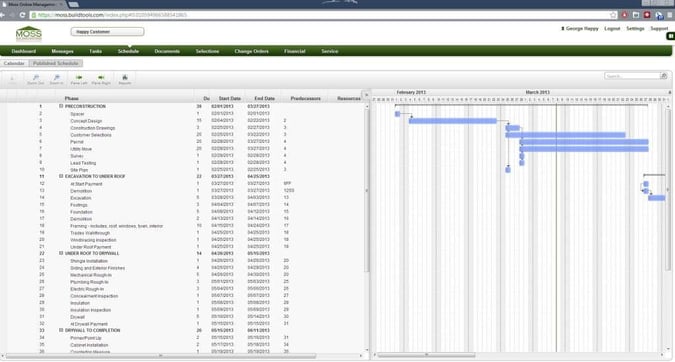 Now you can know what to expect and when to expect it during your home remodel. You can see exactly what needs to happen and when it is scheduled to happen, so there are no surprises. You will also know who the person is that is coming to your home and when to expect them. If there is something on the schedule that changes you will have real time access. Again, we strive to make this process an easy one for you and your family.
If you wish to view your selections you'll see the following: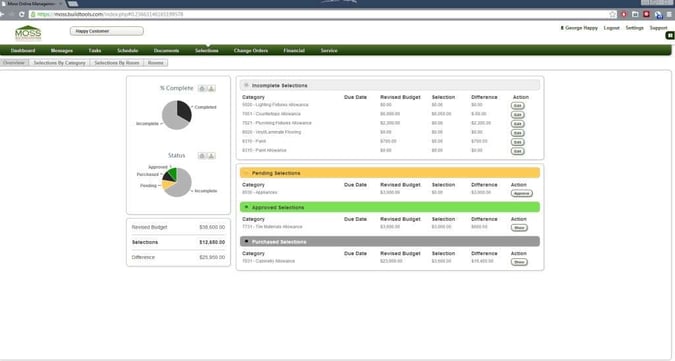 We also use MOSS Online to send messages as well. Every team member on your project will have access to MOSS Online so everyone will be informed at all times, including your Customer Care Manager, Sales Consultant, and Project Manager…it doesn't get much better than that!
Northern VA Home Improvement
Moss Building and Design specializes in remodeling additions, kitchen remodels, bathroom remodeling and basement remodels. We also off other home improvements through Moss Home Services, that includes electrical, plumbing, handyman, roofing & siding, structural work and much more. Whether you're looking for a new addition, or would like to remodel your kitchen Moss Building & Design can help. We offer free consultations to listen to your needs and to also show you how you would use MOSS Online during your remodel. We'll log in and let you get familiar with our program. We understand that the remodeling processes should be stress free and we strive to make that possible for you by developing new software and implementing new ideas that allow you to enjoy the final product but the process along that got us there as well. Call us today to set up a free consultation 703.961.7707.