Moss Building & Design Sits Down with Alison Geare of Mosaic Tile, Chantilly VA, to Learn All About Today's Tile Designs
Carly McAlister, Marketing Coordinator
Wednesday the 14th was the official grand opening of the new Mosaic Tile facility in Chantilly, VA. Folks crowded into the brand new facility to enjoy live entertainment & to get a glimpse of the new set-up. While attending the event I was able to sit down with Alison Geare, Marketing Manager at Mosaic Tile and we discussed home improvement tile trends.
Alison, what tile trends are you seeing more and more of with home improvements in Northern VA?
Alison: Gone are the days of small, standard 12x12 tile formats. The new trend is bigger tile with more rectangular formats. Consumers are now going for a more 12x24 format which is great because it breaks up the geometry of the space your tiling in your home. (See photo below) This random offset pattern gives you a much more interesting floor or wall opposed to your standard 12x12 option.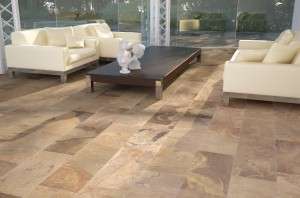 Consumers used to go for a much more rustic and French country look that involved different sizes of tile. Now, people want a not so busy, cleaner look and are using bigger tile formats that are all one size.
What about color, are there any colors that are up and coming in home remodeling?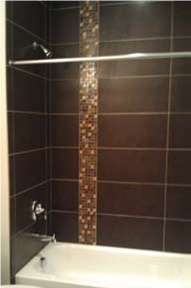 Alison: Tile is a lot of fun and you can get really creative or as dramatic as you want during your remodel. You can use a small amount to make a big impression or you can be more subtle. (See photo right) More and more individuals are using grays and taupes.
This is great since we're beginning to stray away from years and years of beige. More people are becoming less afraid of color.
What's the latest offering for homeowners in tile & grout?
Alison: Grout has become better and better in terms of becoming stain resistant. Power grout is literally stain proof. It doesn't have to be sealed & there is virtually no maintenance. It really gives the homeowner a piece of mind for keeping it clean especially when going with lighter colors.
Grout is also customizable so we're seeing a lot of people getting grout matched to specific colors that they want as well as glitter grout- so that's a lot of fun.
There's also hardwood porcelain tile. These are long planks of tile that have the look & texture of hardwood & you would honestly never be able to tell the difference. You get the look of real hardwood but with a lot less maintenance. With this you don't have to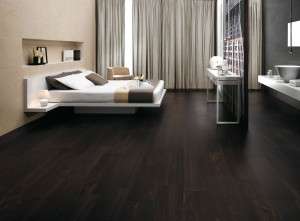 worry about sun damage or pet scratches like you would with real hardwood.
Given the Northern Virginia Housing Market, how do these trends in tile relate to the economy?
Alison: Many consumers used to worry about re-sale in the Northern Virginia area. They were afraid that if they used anything other than beige tile they will not be able to sell their home later on. But more and more people are becoming less nervous, people are staying in their homes longer. And if they do have the ability to do a home remodeling project or add an addition, they really want to be happy with what they are doing.
This goes back to the color trend, people typically stick with neutrals due to the whole re-sale factor but now that people are staying in their homes longer as opposed to moving, they are choosing the tile that they really love for their home improvement and not worrying so much about later on down the road.
What is the best advice you can give a homeowner when picking tile?
Alison: Make a decision you love. It's your home; you're going to be the one looking at it every day so chose what you love. Often times choosing tile is the last decision to be made during your home improvement so many people are at the tail end of their budget when it comes time to chose. Tile choice is compromised a lot of the time for something cheaper that they don't necessarily really like. In reality they aren't saving as much money as they think because regardless of if you went with the cheaper tile or the one you really liked you still have to pay the same for labor and installation. Tile is a great product to invest in & it definitely increases the value of your home.
Tile is permanent so you want to be happy with it for many years to come.
Image Credit: Mosaic Tile