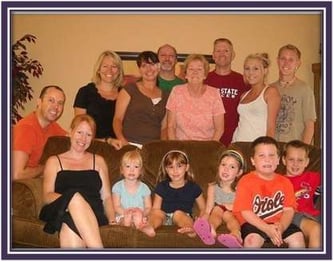 And More Like A Box Of Chocolates

By – Jeannine Miller (jmiller@mossbuildinganddesign.com)
We have all heard the old bromides 'Life can change in the blink of an eye' and 'Appreciate what you have because it could be gone in an instant,' but those phrases don't really hit home until something happens to make them applicable to you personally. With the bombings in Boston, the tornado in Oklahoma and my mom suffering a serious illness, I now hear the truth in those clichés loudly and clearly.
Every day truly is a gift. After being gone for a week to be with my mom, things around me seemed a bit different when I got home. The laughter of my kids, the spring blooms, the friends who helped my husband in my absence, all of these are appreciated more by me today than they were yesterday. I've never been one to believe that something good comes out of every situation. Call me cynical, but sometimes bad things are just bad, period. However, I may be changing my tune slightly. Maybe the good that is coming out of the bad is my renewed appreciation for all that I have, not the least of which is an amazing community of family and friends who never fail to step up and provide support when needed.
I think it's fairly obvious to my regular readers that I use my blog as an ongoing, not-so-private therapy session, but that's just a little job perk I've created hoping nobody who signs my paycheck will catch on to. :) My real work is the business of home improvement, so if you are in the market for some home improving, give us a call at 703.961.7707 – we would love to talk to you about your project.
In addition to blogging about all things home and family-related, Jeannine Miller manages Moss Building & Design's HandyMOM 101 workshop program and coordinates Moss' philanthropic efforts in the community.