Lessons From the Field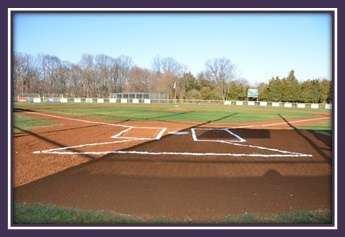 By – Jeannine Miller (jmiller@mossbuildinganddesign.com)
Recently my son, Kenton, who is usually immune to the opinions of others, lost it. He made a couple errors and a particularly outspoken teammate felt compelled to voice his disappointment. From the bleachers, I watched Kenton's face contort as he tried to hold it together and tears streamed down his face. After what seemed like a lifetime, the inning finally ended and he headed for the dugout. I resisted my urge to rush over and comfort my son, reminding myself that he has a coach who is in charge of this situation. I was truly touched when a teammate sidled up to Kenton, put an arm around his shoulder and told him it was okay and not to worry about it. Kenton was right as rain from that point on.
Fast-forward to the next game. It's the last inning, bases loaded, two outs. We just need one more out to advance to the next round of the playoffs. Unfortunately, we're pretty much out of pitchers, so the coach calls Kenton to the mound. I was dying inside. What does my kid do? He shuts it down and we win the game. His teammates rush him and pile on top. It was one of his best days ever.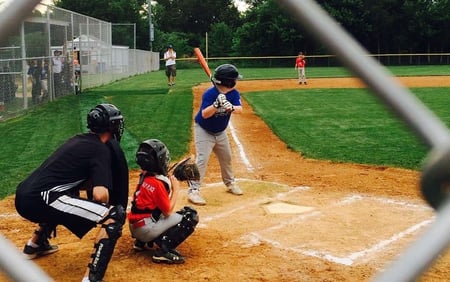 My oldest son, Davey, has had his own disappointing baseball moments but one, in particular, sticks with me. He's a good ballplayer and was pretty much a shoe-in to make the "majors" he was trying out for. On the way to watch Davey's tryout, my two youngest kids and I were involved in a car accident. Thankfully, none of us were hurt, but I had to call my husband and let him know what had happened. I know Davey was worried about us and it surely affected his performance. He didn't make the cut. He was terribly upset about not making it and watching his heartbreak was really tough.
A few people suggested I call the powers-that-be and explain what happened the day of tryouts and why I thought he performed lower than expected. I didn't do that because I feel situations like this are just part of life -- some days you're on top of your game and some days you're not. Davey got over the disappointment once the season started and found he really liked being somewhat of a mentor to the younger kids on the team. The photo below was taken the day his team won the Championship.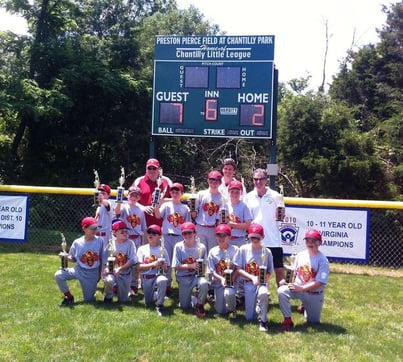 My husband, kids and I have learned a lot of life lessons while watching our boys on the baseball diamond, a few of which are:
People don't always filter what they say and sometimes you just have to suffer through it.
Trying to fix everything for your kids isn't necessary or even the best thing to do.
Pushing through failures builds character.
Even the most upsetting moments will fade into the background.
What seems awful today can be awesome tomorrow.
I know not every disappointment has a Hollywood ending, but I certainly think there are always lessons to be learned and you can find your own silver lining. As Babe Ruth said, "You just can't beat the person who never gives up."
And now a word from my sponsor: If you're in the market for some home remodeling, call the experts at Moss Building & Design. We will consult with you and help you explore the many possibilities for updating your home. Call 703-961-7707 to schedule an appointment for a free estimate.
In addition to blogging about all things home and family-related, Jeannine Miller manages Moss Building & Design's Community Relations Department, which includes the popular HandyMOM 101 and HandyGirl 101 workshop programs.