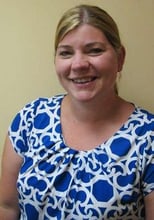 Meet Pam Kopiak, the newest member of our marketing team. Pam joins the marketing department as a community liaison bringing HandyMOM 101's and HandyGirl101's to moms groups in Arlington, VA. She will also be active in our community and will contribute a monthly blog, specifically regarding home improvements in Arlington, VA.
Get to know Pam:
Pam was born in Tampa, FL but grew up in Woodbridge, VA. She went to college at George Mason University where she received her BS in Public Administration. After college, Pam moved to Arlington and has been there ever since.
Pam enjoys traveling and has made many trips to Ireland where her husband's family is from. She has also traveled abroad in Germany, England, Spain and other locations in the U.S. Even though she has not travelled as much as she would like since having kids (as many of us can relate to), Pam feels that experiencing different cultures has really made its mark on her personality. She likes trying new things and talking to different groups of people. She looks forward to doing that as part of Moss' Community Relations team in Arlington.
When Pam isn't traveling, she enjoys spending time with her husband (her high school sweetheart) and three kids. She is involved in the preschool, where her youngest attends, as well as the elementary, where her oldest two belong. If she is not baking or volunteering for school events, you might find her up the street in Westover Village, taking advantage of all of the benefits of living in such a tight-knit community.
Stay tuned for Pam's first blog about plaster in your Arlington home!
If you're interested in hosting a HandyMOM 101 or HandyGirl 101 workshop in Arlington, VA contact Pam at PKopiak@MossBuildingandDesign.com