---
Moss Building & Design is partnering with Dominion Electric for a Girls Night Out event on Thursday, April 23rd from 5:30 PM-7:30 PM. RSVP here.
Come meet us at the Dominion Lighting Show Room located in Chantilly where we'll present our HandyMOM 101 workshop, "Caulk It." We'll also be giving away some great prizes with Dominion to celebrate their 75th anniversary!
Prior to the event, Dominion shares the latest design trends from the Dallas Lighting Market.
---
By- Patty Jordan (PJordan@DominionElectric.com)
From ornate to minimalist, rustic to modern, this year's collections offer something for everyone.
Each year, the Dallas Lighting Market showcases the latest design trends and lighting fashions, attracting professionals from around the world. Once again the team at Dominion Electric Supply donned their most sensible shoes (it's a big show to walk!) in search of the coolest trends in residential lighting. Below are our top six trends from this year's collections.
Feeling Wired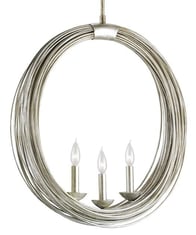 Wire is big this year, whether it's in outright "birdcage" designs, or spherical pendants, such as the Haley by Currey (seen above), featuring a "symbiotic" steel circle design. We're also into Crystorama's take on the trend – Filmore is a 5 light crystal chandelier encased in a wire cage. Industrial-style design is still hot, too, with everything from steampunky chandeliers by Jeremiah, to street art-themed wall fixtures and overhead designs by Troy that give a playful thumbs up to tattoo culture.
Brass but not Brassy
Brass, brass, brass–it's everywhere! And unlike the days of yore, it's warmer and mellower. We especially loved Crystorama's Lawson (seen above), a six-light chandelier in aged brass and Hinkley's Euclid Orb; both blend traditional warmth and contemporary flair, bold proportions and rich two tone finish.
Lovely Lanterns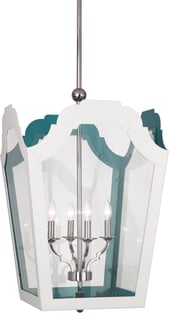 Classic lantern shapes have taken on a new personality. Our favorites included the minimalist designs by Robert Abbey (an example seen above): lanterns, featuring simple exterior metal frames encased in clear glass, the interior metal casing painted either a vibrant red or bright white, producing an eye-catching contrast from the outside. Craftmade's Jeremiah, a metal lantern with a bird theme, is another piece that had us on Cloud Nine.
Organic Elegance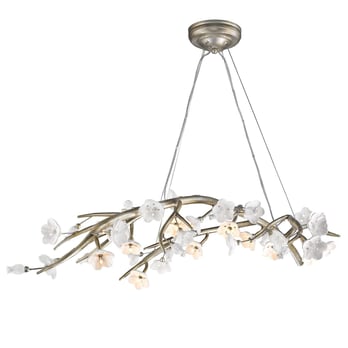 Birds and flowers play a starring role in this year's designs with fixtures by Troy, Savoy, Currey, and Golden Lighting. Organic, but elegant, we were delighted with the whimsical touches we saw—little birds perched on iron arms, or tiny white porcelain flowers dotting a metal twig. See above, Golden Lighting's "Aiyana" which encasing a forever blooming array of the ionic cherry blossoms.
Part sculpture, part fixture and totally contemporary, Hinkley and Corbett featured an array of suns and starbursts. We were drawn to Hinkley's Impulse (seen below), a dynamic LED chandelier design with petite stems radiating from the spherical body while miniature acrylic ornaments of light glow at its tips.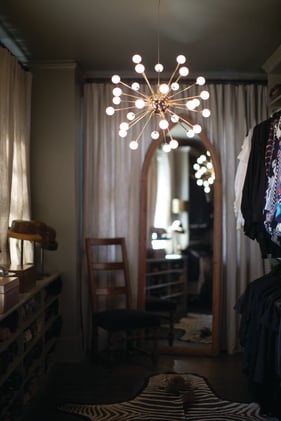 We Love LED!
For us, LED was the show-stopper this year. Along with better color output, dimming capabilities have vastly improved, and no longer is LED limited to recessed lights. It's everywhere, from bathroom fixtures to crystal chandeliers for the dining room–an emphatic acknowledgement of the homeowner's desire for quality design that truly addresses energy efficiency. One of the standout examples of this happy marriage was the number of nostalgic Edison LED lamps we saw, which not only look great but also project warm, soft color. Another shining example of what designers are doing with LED is ET2's playful suspended array of LED batons (seen below), reminiscent of a game of pick-up sticks.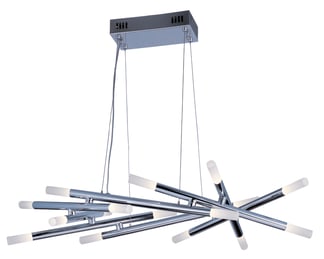 Clean and Contemporary
We especially liked the trend toward single lamps hanging from colored cables – Tech Lighting has one on a blue cord. Robert Abbey's colored drums hide the bulb source in a mirrored disk, producing a two-tiered color output: one shade of purple on the outside, and a different shade of purple on the inside; or a cool teal blue on the interior, complemented by a warm brown on the exterior. We also saw a lot of spheres in Lucite and chrome. For the minimalists out there, Alico, LBL, and Tech Lighting offer an understated line-up of hanging fixtures, along with Maxim/ET2 and its inverted teardrop design. Admiring these collections, we agree with Leonardo da Vinci apt saying, "Simplicity is the ultimate sophistication."
To learn more about Dominion Electric or their lighting showroom, visit www.dominionelectric.com.
Photo Credit:
Haley by Currey http://www.curreycodealers.com/p-5910-haley-chandelier.aspx#.VTZdCyFViko
Crystorama's Lawson http://www.crystorama.com/searchadv.aspx?searchterm=lawson
Robert Abbey http://www.ylighting.com/robert-abbey-williamsburg-tayloe-small-pendant-light.html
Golden Lighting's Aiyana http://www.goldenlighting.com/Collections/Aiyana-GL
Hinley's Impulse courtesy of Dominion Electric
ET2 http://www.et2online.com/index.aspx