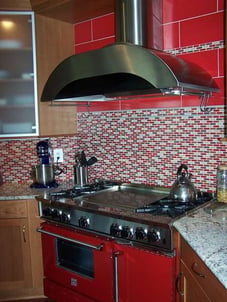 By – Jenn Zschunke (jzschunke@mossbuildinganddesign.com)
A full kitchen remodel, in which walls are knocked down, plumbing reconfigured, a new room added, etc., is not an inexpensive project to undertake. While the benefits, at the end, are absolutely worth it, you may not be ready for such a large undertaking whether due to family needs, budget, or timing. Moss Home Services offers many ways in which our Northern Virginia clients can update their kitchens without a large price tag or the major commitment – we happily offer our clients multiple ways they can "facelift" their kitchen and truly make it an updated and more aesthetically-pleasing room.
Kitchen Backsplash
One of the easiest ways to update your kitchen is to add a backsplash. There are truly countless designs to choose from as well as tile colors and material. Moss Home Services can install a new backsplash over the course of a few days. The end result is a kitchen that is truly your own, style-wise. Here is an example of a gorgeous backsplash that Moss installed at one of our client's homes in Herndon, VA: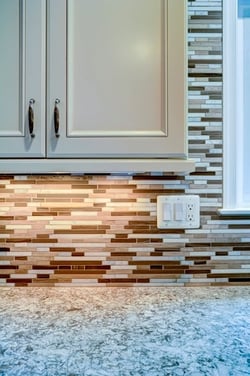 Lighting for your Northern VA home
As seen in the photo above, the backsplash is lit by under-cabinet lighting. This is another way to almost immediately update your kitchen. Under-cabinet lighting is relatively inexpensive, provides more ambient light which provides an effective result. Moss recommends that if our clients are interested in adding a backsplash and do not have under-cabinet lighting, they should consider it -- installing under-cabinet lighting at the same time one is adding a backsplash is the best time to do it. Any necessary electric and switch controls can be run on the walls and be covered by the backsplash (with minimal drywall work after).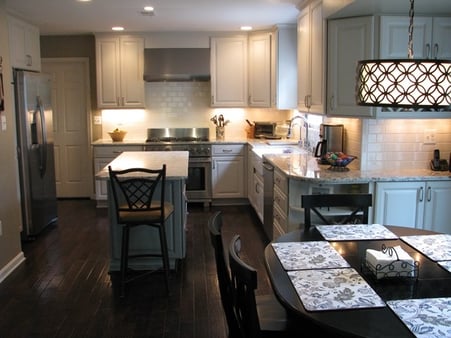 Cabinetry Option for Kitchen Remodels
New cabinetry can also make your kitchen look incredibly modern and updated. While cabinetry is expensive, there is a range of prices depending on your choice of features. Moss is now offering branded-cabinetry through Hampshire Company. With just the addition of cabinetry that touches your ceiling, has a built in (hidden!) garbage can, or features soft close doors makes an older kitchen look and feel brand new.
Flooring and Paint for your Kitchen Renovation
Installing a new floor in your kitchen is a quick and also relatively inexpensive way to update your kitchen. Imagine pulling out an old, patterned floor and replacing it with new hardwood or tile? That, along with a fresh coat of paint, is more than one way that Moss can help "makeover" your kitchen.
Collaborate with Moss Building & Design on your next kitchen remodel! Our experts take into account your needs, budget, and your home in order to deliver a kitchen that matches your family dynamic and your family for years to come.
Contact the experts at Moss Home Services at 703-961-7707 for a free estimate and to learn more about our services.
Jenn Zschunke is a part of the Community Relations department. She plans HandyMom 101 workshop programs for Moss and coordinates philanthropic activities in her local community.