By Pam Kopiak (PKopiak@MossBuildingandDesign.com)
I can't remember the last time I heard someone say "Wow! I love how cozy it is in here" when entering a galley style kitchen. Actually, I am not sure that has ever happened, in all of history. Why? Because people tend to panic when they see a small kitchen (or is that just me?). There are so many pots, pans, cookie trays, plates, glasses and various gadgets you might find yourself "needing" in order to consider it a fully functioning kitchen and where oh where will all those things go? We must find a way to house all those "must haves." Here are a few ideas.
Live Off That Island
In recent years, kitchen islands have become huge. Figuratively and literally! If you have the space, you can considerably increase your storage space by adding a larger kitchen island. Cooktops, sinks and even microwaves can be moved to the island, leaving ample storage in your other kitchen cabinets. These kitchen remodels in Northern Virginia showcase kitchen islands with all the extras to maximize space.
However, if you are working with a 'cozier' galley style kitchen like the ones mentioned above, a large island may not be an option for you. Instead, try a rolling island that you can bring in and out of your kitchen space with shelving or drawers to store not-so-important items (like the paleo cookbook you bought last January and haven't opened since.) This 'rolling bookshelf' featured on the DIY network features a rolling island that is perfect for this kind of kitchen storage.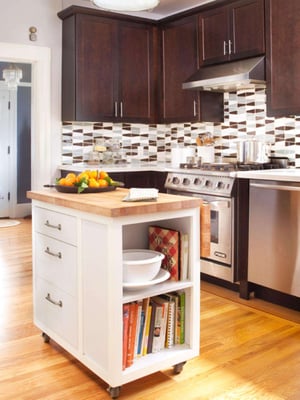 Wasted Space? Don't Think So.
A lot of cabinets do not extend to the ceiling, wasting valuable space. This is probably because most people aren't tall enough to play professional basketball and therefore it seems logical to keep the cabinet height low for easy access. BUT, if you have a step stool, you could probably reach anything up to the ceiling. Notice these kitchen remodel have maximized their storage by using the full height of the wall for cabinets, which is great for storing items not regularly used.
Pair It With A Nice Glass of Wine.
Finally, don't forget that little something extra. Don't banish that wine to the cellar down in the basement (as if, am I right?) or let those Cab Savs take up valuable cabinet space. I have seen quite a few friends recently who have opted to build a wine fridge and rack right into the kitchen design, as shown in these kitchen remodels.
Another great way to incorporate this can be seen in this kitchen island below with a built in wine-rack featured on DIY Network. These storage options show there is no need to leave the comfort of your kitchen to enjoy that well deserved glass of wine at the end of a hard day, and in turn will free up storage space. Win-win! (Or should I say Wine-Wine?)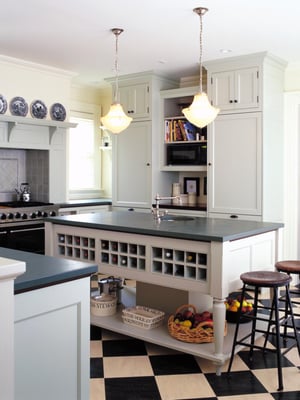 If you are looking for ideas on how to maximize storage in your kitchen, the professionals at MOSS Building and Design are always available to answer questions and share ideas. If you would like to discuss your remodeling plans or have general questions call MOSS at 703.961.7707 or email Sales@MossBuildingandDesign.com.