Remodel Your Home With One Of Northern Virginia's Best Contractors
This weekend is the Capital Home Show at the Dulles Expo Center in Chantilly, Virginia. Moss Building & Design will be at booth #414. We'd love for you to stop by and say hello.
Not only will we be at the home show, but we also have two great workshops on Saturday & Sunday. On Saturday we will be presenting our HandyMOM 101 "Patch It" workshop on the Fresh Ideas Stage at 1pm. This workshop will be hands-on and fun. One member of the audience will receive a FREE Handyman For A Day! Our HandyMOM 101 workshops are designed to empower women with the right DIY home improvement skills so that they can take care of some of the home improvements at their home. We enjoy presenting these workshops to women all over Northern VA.
We will be launching our brand new HandyGirl 101 "Tile-It" workshop on Sunday at 1pm on the Fresh Ideas Stage. This workshop is designed to begin teaching young girls DIY home improvement skills. We provide patches for the girls who complete the workshop that is suitable for trading or wearing on a Girl Scout vest. It is an interactive hands-on workshop for girls and their moms (or other special adult) to do together. A member of the audience will receive a FREE Handyman For A Day.
Moss' Community Relations Manager, Jeannine Miller, was interviewed by Holly Morris of Fox 5 this morning. She was accompanied by adorable Brownies who were busy laying tile for their trivets.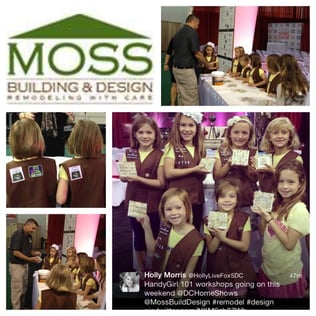 "It's great to see the girls so enthusiastic about learning home improvement skills, especially in such a male-dominate industry. So far they have loved it and it's great to watch them be so excited about the finished product and the skills they learned," said Jeannine.
If you're considering a remodel or have any questions we'd love to see you this weekend and bring your family! We'll have a 'Moss the Builder' character at the show on Sunday from 12-4 at our booth (#414) for the children. Our staff looks forward to seeing everyone this weekend at the Capital Home Show!