Meet Moss is our new series where we introduce an employee bi-weekly. We'll describe what they do here at Moss as well as some fun and interesting facts that you may have never guessed! We'll also share a photo so that you can put a face to the facts and get more familiar with our employees.
We are pleased to start our Meet Moss series with one of the most important people to our company: Moss.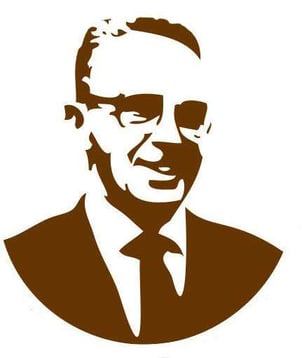 Nicknamed 'Moss', Paul Francis William Hampel Jr. grew up in the Northern New Jersey suburbs. Moss and his wife Natalie had four children: three sons and a daughter. One of which is our co-owner Pete Hampel.
Moss was well-known for his hard working attitude and appreciation for his family. He helped out his community in any way that he could and he quickly gained the reputation of being the neighborhood handyman as he would help neighbors fix and repair various things. He was the neighborhoods go-to if they needed help with anything from home repairs to getting a ride to doctors appointments. They knew they could count on Moss.
Moss had a passion for fixing and building things. The house they moved into in 1952 had no upstairs; it had a living room, kitchen, 2 bedrooms, 1 bathroom and an unfinished basement. Eight people lived in that space. Moss took it into his own hands to build the upstairs which included 2 bedrooms, a walk-in cedar closet and half bathroom.
Moss represented honesty and responsibility, and those values are instilled in our company. Although Moss passed away after a battle with cancer before Moss Building & Design was formed, he would be very proud of the company and its accomplishments as well as the people who work here.
Moss fun fact: Moss' nickname was given to him by his four children and is derived from the fish "mossbunker." Mossbunker was bait used in crab traps during family vacations to the Jersey Shore. The children were occasionally called "Bunkie" (a 1940's term broadly meaning friend) so they concluded that he must be "The Moss" later shortened to just "Moss."